Wanted: FutureChallengers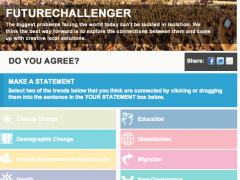 Global trends might have worldwide repercussions yet the impact they make varies considerably from region to region. So bringing together individual perspectives on a single platform and showing how they correlate is an ambitious and very exciting venture. Our understanding of global problems that cross the frontiers of individual countries and even continents is that they pose a challenge to the majority of people – a challenge characterized by the endless diversity of individual responses.
We want to get an idea of what moves you in the troubled times we're living through.
To explore the way global trends have an individual impact, in the next few weeks we're embarking on a quest for the FutureChallenger. We're asking users to choose the two out of ten megatrends which are important to them and which seem to intersect. We're also asking for a video statement on your choice. Tell us why you think this is important and give free rein to your creativity!
Who is the FutureChallenger?
We should start by pointing out that there is no such person as THE FutureChallenger! So please don't go worrying that the challenges you chose might be irrelevant to a large number of people or lacking in interest to a particular minority. Practically everyone can participate online, and in doing so face the biggest challenge of them all – the challenge of self responsibility. FutureChallenges is an attempt to stimulate a conversation about global trends and provides the means for a great many international activists to publish their own views and experiences. Because what really counts is what YOU think and feel about the structures of the world we're living in.
What kind of future challenges are you facing?
Which trends have a direct impact on your lives and which are you less concerned about?
Are you anxious about the forthcoming challenges or do you see them as chances to be seized?
And why do you think we need to talk about them?
This link takes you directly to the platform where you can make your statement. The entry that gets the most votes from Facebook users will win an iPad 2.
So take your chance, make your statement and show how things could be!
This blogpost has been written by Henning Mayer.