"No boats for 100 days:" The human cost of Operation Sovereign Borders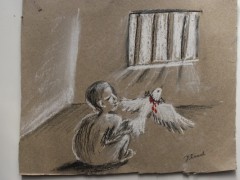 The Australian government boasts that no asylum seeker boats have arrived in over 100 days. Yet these questions remain unanswered: how many boats have been turned back?, where have they ended up?, and at what cost? Despite having earned a reputation as one of the most prosperous, democratic and multicultural nations on Earth, Australia is reluctant to share its blessings with the world's most needy and vulnerable people: asylum seekers. The government fiercely defends its policy, Operation Sovereign Borders, whereby boat arrivals are intercepted and forcibly returned to Indonesia, while those that make it to Australian territory (Christmas Island) are transferred to detention on Nauru or Manus Island, for subsequent resettlement in Papua New Guinea. There is no doubt the policy has been effective at "turning back the boats," yet the human and economic cost remains shrouded in secrecy. Journalists are denied access to Nauru or Manus Island, making asylum seekers "out of sight and out of mind" for most Australians. In February, a young Iranian asylum seeker, Reza Berati, was killed while in detention, and 60 others injured, while the precise details of what happened remain unknown. This, however, should be cause for concern. For in the words of former Australian Prime Minister Malcolm Fraser, "Secrecy is completely inadequate for democracy but totally appropriate for tyranny. If the minister will not inform the public, then we are within our right to assume the worst."
Recent reports by independent broadcasters SBS and the ABC have shed some light on the human cost of Operation Sovereign Borders, confirming stories of abuse, neglect and utter desperation of asylum seekers who have either been returned to detention in Indonesia, or transferred to detention on Manus Island and Nauru. In its report 'The Inside Story,' SBS spoke to a former employee of the Salvation Army who worked on Manus Island as a support officer, describing the situation as utterly horrific. Film footage showed the cramped conditions in which inmates lived, including women and children, with little privacy and in sweltering heat. Toilets were filthy, and inmates complained of dirty drinking water. Women claimed they were denied toiletries and underwear. Needless to say, rates of mental illness, self harm and suicide attempts were extremely high. Following the murder of Reza Berati, the public was left largely to speculate regarding his death. New film footage obtained by Fairfax media  earlier this week, however, reveals security guards attacking detainees just hours before the murder of Reza Berati. We now know that the Papua New Guinean forces, contracted by the Australian government, attacked violently when detainees tried to escape the centre after finding out there would be no hope of resettlement in Australia. One thing is undeniably clear: PNG forces were inadequately trained, and failed to protect the safety of asylum seekers.
Josie, who works as a teacher on Nauru, refers to our offshore detention centres as the 'Australian version of Guantanamo Bay.' In Josie's words, "This is by far the most shocking immigration policy I've seen in my life… and the fact that so little outrage was caused by the death of Reza Berati and it was so little spoken about deeply disturbs me… if it was a 'death in custody' (which it more or less is) onshore with a non-asylum seeker there would almost be a Royal Commission and a huge national uproar against police or other brutality…. though most people don't give a rats about a young Iranian who 'brought it upon himself' as mainstream media and The Minister for Immigration and Border protection infer."
If there's one thing that Josie, Amnesty International and the UN agree on, it's that Australia is failing to assume its international responsibilities in terms of protecting the world's most vulnerable people – asylum seekers. According to Emilie Howie of Australia's Human Rights Law Centre (The Weekend Post, Saturday March 22 2014, p 18), "By seeking to prevent asylum seekers from arriving and outsourcing its obligations in respect of those that do, Australia is setting an alarming global precedent that must be condemned."
Relegating asylum seekers to a life of despair and uncertainty in Offshore Detention Centres (ODCs) is costly and inhumane. As the death of Reza Berati has demonstrated, the government has failed to guarantee the safety and welfare of detainees, including women and children. Moreover, the media blackout means Australians continue to be denied the facts. The Asylum Seeker Research centre shows that the cost of processing asylum seekers in detention far outweighs the cost of processing them in the community, after necessary security checks are made.
Asylum seekers deserve to be treated fairly and compassionately, and Australians have the right to a free and fair media. We do not know how many boats have been turned back, where they have ended up, or what happens precisely to those asylum seekers who are to be resettled in Papua New Guinea.  Considering that 45% of Port Moresby's population (UN-Habitat, 2008) lives in settler communities of semi-permanent dwellings with limited access to  water, sanitation, education and health care, it is unlikely that the settlement needs of refugees from Manus Island will be adequately met. According to PNG Deputy Opposition Leader Sam Basil, "We all know that resettlement of refugees is a huge administrative and financial responsibility. In Papua New Guinea, we have yet to resettle refugees from West Papuans and our domestic refugees who are affected by natural disasters and socio-economic pressures. We have people from the Atolls, and Manam to be resettled. Our own people are yet to be properly housed, educated and fed and living in squatter settlements, and we are going ahead with a scheme that will blow up in our face."
In order to restore its reputation as a truly democratic and multicultural nation, it is time for the Australian government to come clean on "Operation Sovereign Secrecy." We must stop relegating our responsibility in the protection of asylum seekers to already impoverished nations in our region, and offer freedom, hope and security to those who have been denied it for so long. After all, we are a nation of boat people, and our society was made so much richer by the contribution of settlers, whether migrants or refugees.
Australian readers can take up this excellent initiative to write letters to asylum seekers on Manus Island, by following this link. I would also like to invite other bloggers to share their opinions of their country policies regarding asylum seekers.
Tags: Amnesty International, asylum seekers, Christmas Island, human rights, immigration, Manus Island, media democracy, multiculturalism, Nauru, offshore detention, United Nations