OccupyNigeria – The End or The Beginning?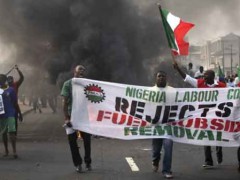 The month of January is coming to and end. It's the year 2012 and Nigerians are slowly going back to every day life, or so it seems.
On the 1st of January, shortly after the announcement of the subsidy removal, which catapulted Nigerians into a state of shock, anger and disbelief, the 1st pocket of OccupyNigeria started to emerge in Abuja. In the following days other states joined – OccupyNigeria spread like a wildfire – Lagos – Kano – Bauchi – Ekiti – Kaduna – Kogi – Rivers.
The Labour union called a nationwide strike, which gave OccupyNigeria some more steam. It needs to be clearly stated that the strike was by the unions; the OccupyNigeria protests were by the people.
Twitter was ablaze with the hashtag #OccupyNigeria. TV stations across the country showed nothing but the protests; international media covered the movement and analysed the subsidy removal and its effects in detail.
Millions of Nigerians took to the streets. Squares and parks were renamed to "Freedom Park" and "Liberation Square". We had all watched the Arab spring last year and wondered if we would be able to do the same. We marched, we sang, we danced, we discussed, we listened, we educated, we shared, we spoke, we convinced our friends and strangers on the road to come along and protest, fight for our rights.
It was soon very clear that this was NOT about the new pump price; it was about much more. The subsidy removal was the drop that made the bucket overflow. Nigerians had had enough, we had hoped and prayed and it had gotten us nowhere. The subsidy removal woke us up and we started demanding. We wanted constant electricity, good roads, adequate infrastructure, good governance and transparency; we wanted to see the end of corruption that has crippled our country for years; we wanted accountable leaders, we wanted to participate, engage and have a voice. We wanted good education, good healthcare and social services that work. The placards with demands started flooding the streets…
And then there was the propaganda – millions of Naira wasted on hired pro-subsidy protesters, pro-subsidy billboards, pro-subsidy adverts on TV and on the front page of every newspaper you could find. Ministers and other Government officials came on TV shows and talked about the benefits of the subsidy removal, defending it with their last breath. They kept stating that all that the subsidy removal affected was the cost of transportation.
Now in a "normal" economy, they would have been right. In a normal economy the subsidy removal would not have affected every single person in this country. Many people did not understand why I walked 16km to Ojota and back every day, just to protest, many people did not understand why I was so concerned about a petroleum price I would still be able to afford. But in a country with over 70% of the population living on $2 a day or less and a huge dependency on fuel as a source to of power generation for small and medium size businesses, the cost of services, products, transportation and food would be affected. People still did not understand, they told me – "Don't worry, you will be fine, all you need to do is hike your prices too and transfer your new expenses to your clients." I knew that that would work, but still I worried.
When the Government deployed soldiers in the streets of Lagos, with orders to teargas and disperse protesters with brute force if necessary, everyone was in shock. No one could believe it. Those of us who grew up during the military regime cried as memories flooded our minds and we realized that even though we lived in a democracy, it was a dictatorship instead. The Government reduced the pump price a little gave the unions an incentive (some speculate that $20 Million exchanged hands during negotiations) to call off the strikes.
I sat there paralyzed and I wept, because I knew what was to come…
The rich would laugh and say: "We knew this would happen". The middle class would grumble and swear they too would "chop" (Nigerian pigeon English for the word "eat") government money soon, they would work hard and cry at times when they saw how much of their hard earned money was left.
They would say "God dey" and pray; they would keep suffering & smiling like Nigerians had done for years. People who used to run their "I better pass my neighbour" a.k.a Tiger Gen (smallest generator available in Nigeria – seen as a status symbol among the upcoming middle class) would sit in darkness.
Children would study in candlelight, they were used to it, but something would be different – the buzzing sound of generators would suddenly be gone.
And those who have never had enough? Those who make up the majority of the country; the masses that live on less than $2 a day?
THEY would EXIST, because you wouldn't be able to call it LIVING…..
The transportation fees for okadas, small buses, taxies, keke marwas that had doubled during the protests, would be reduced, just a little bit and walking would become the cheapest alternative; food prices that had gone up like crazy would settle at a price unaffordable to the poor and they would skip yet another meal, leaving them with just 1 meal a day.
Fathers would take their children out of school because they couldn't support their families anymore and their able-bodied 12-16 year olds were old enough to sell oranges, collect scrap metal, carry bags in the markets or simply stand on their own feet – leave home and fend for themselves.
The Destitute camps all over the nation would overflowed. Thousands of people would flood major cities to beg. They would just want somewhere to sleep, a mat to rest at night. The streets would be full of beggars and noone could stop them. They would beg even though they know people have less to give
And then there were the street boys aged between 12 and 21; they would troop into major cities like Lagos in thousands. They have always been here, but they would have never been this many. Suddenly they would be everywhere, not only at Kuramo Beach. They would wipe windows, carry baskets in markets, work as conductors, work as houseboys, join gangs, join armed robbers, commit murders, smoke weed and drink beer. Our future generation – completely wasted.
Every day there would be reports of armed robberies and kidnappings that the police won't be able to handle. And 2012 would come to an end and the rich would have gotten richer and the poor poorer and our cities even more unsafe.
I sat there and I wept for my country. I wept for my unborn children. I wept in anger. I wept in pain. I wondered if all the above would need to happen before people would realize that even though they can afford an increased pump price, many people would go hungry. A hungry man is an angry man, or so the saying goes. Will we sit and do nothing until it affects us? Until someone robs us and tells us the Government policies forced him to do this?
Will we sit still and let the Government drown out our voice and take our freedom to protest?
The only answer I could come up with was: "NO" and today I know I am not the only one. There are various youth groups that have come together to discuss change, to collate demands, to give Nigerians a voice. We will not give up. We will not lose the war, albeit losing the 1st battle. We will not be complacent; we will not live like this anymore.
This may seem like the end of OccupyNigeria, but to a lot of us, it's the beginning; a first step towards change.
By Nkemdilim Uwaje (January 2012)
Tags: FuelSubsidyRemoval, Nigeria, OccupyNigeria, poverty, Social Issues