Pakistan Hockey – Green Gold turned to Lead.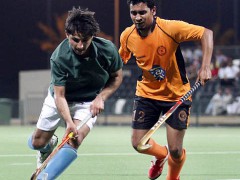 The whole nation used to wait for the broadcast and support the Pakistan team, cheering them on on the radio,  and waiting for them to sweep the hockey ground at a far away international tournament. Those were the glory days for the green shirts of the Pakistan hockey team when the names of Sohail Abbas, Mansoor Ahmad and Samiullah rang loud in the hearts of sports fans and youngsters in every part of the country.
Pakistan is a four times champion of world hockey and has set the bar so high for itself that after the 1994 victory against the Dutch in the world championships in Sydney, the team has faltered and dwindled to a mere series of average performances. With a long-term lack of commitment and lack of any significant victories for the team, Pakistanis are slowly beginning to forget the rich culture and excitement they shared with their national game. I was born in the 90s and I can remember how I used to collect money for a charity just so I could get a signed Sohail Abbas certificate. This was the enthusiasm that a nine year old boy shared back then but names like Sohail Abbas have faded into history while other names have not come forward to replace such legends of Pakistani hockey.
The spirit of Pakistan's hockey still prevails as the team fights to keep its standing in the international game but in Pakistan; cricket has taken over the hearts and minds of the sports crazy younger generation. The flamboyance showed by this generation for cricket is what once was shown for hockey with extravagant preparations and parties being made for all important cricket matches.
This year, however, the Pakistani hockey team tried to regain its lost valor by taking on some of the now big names in international hockey like Australia, but unfortunately due to the ill planning of the PHF (Pakistan Hockey Federation) it lost yet again. Pakistan was unable to put on a great performance that would impress on many Pakistanis at home that hockey is still in our blood and is striving for proper management. The national game of Pakistan has been neglected and overshadowed by a series of defeats, disappointments and poor management. The team is indeed talented and resourceful but talent and resources can only take you so far without proper coaching.
A former Olympian and national hockey legend Samiullah Khan nicknamed the "Flying Horse" believes that the Pakistan Hockey Federation has been corrupted and turned into a failed organization, and that a new system should be introduced with the help of the former champions to help uplift the national game. He said that the present results and actions of the PHF cannot be considered by the nation as in any way satisfactory. Pakistan has taken over 48 International medals with 21 gold medals and it should live up to its reputation as the most successful hockey playing nation in the world.
Veteran hockey player Salman Akbar believes that Pakistan has a lot of potential and talent for hockey,  only due to the lack of domestic tournaments, leagues and recruiting, all this talent is nipped in the bud. He adds that Pakistan's hockey requires financial strength and support both domestically and internationally and not just respect. He criticized the PHF as being parsimonious and contemptuous to its employees, denying its players even health insurance and proper services.
What hockey once used to be is now a thing of the past. It is not only the PHF that makes the team or ensures its level of performance. The most important aspect of any sport will always be its supporters – for the kiss of life can be given to a lost cause if we all just start believing in it. Pakistan should not forget its glorious victories and should not stop learning from its blatant failures. And the Pakistani government should make sure to implement a system of social security, respect and credibility for the players so that they don't have to turn to international leagues for recognition and respect. One for all and all for one, this is how a game is played and this is how a nation should stand together in sports for better or for worse.