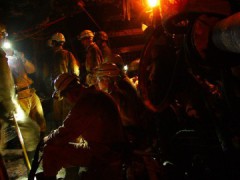 Dark, smoggy, poisonous …
Yes, welcome to many parts of Poland. This is the only EU country whose economy actually grew during the recent recession. But there is a pricetag to be paid for this and that pricetag is the health of the Polish people.
Never mind can growth and environmental sustainability go hand in hand? What about growth and public health? I believe in many cases they make strange bedfellows and Poland is one good example of this, because it is playing fast and loose with the health of its population.
Poland is over 90 % Roman Catholic, and coal-fired power plants make up a similarly high percentage of the country's energy mix.
This is due to two main factors: first, Poland lies on top of massive coal deposits and second, the coal industry is subsidized by the government. The state either partially or totally owns most of the country's coal and lignite mining companies and electricity producers.
"The largest coal deposits in the European Union are in Poland, so over the next decade, coal will remain an important fuel and can be a guarantor of energy for the entire EU," proclaimed Polish economy minister and deputy prime minister Janusz Piechocinski in an opening day address at the World Coal Association summit a few weeks ago.
The Polish prime minister Donald Tusk has also stated that – "The future of Polish energy is in brown and black coal, as well as shale gas." Consequently, Poland will continue to subsidize coal until 2018 and has set aside 100 million euro for investment in the industry this year. This is mainly done to maintain a recession-free state and the 100,000 jobs in the coal industry. Not to mention that next year is an election year. New technologies and sectors will just have to wait until the economic outlook improves.
However, coal comes with a price. Poland hosts 5 of the top 10 most polluted cities in the EU and Krakow, one of the most famous tourist destinations, comes in at a dismal third on this pollution ranking. Andrzej Gula, a campaigner for cleaner air in Krakow states: "It's why Krakow is one of the most heavily polluted cities in all of Europe." The statistics are very worrying, he says. The air is so dirty that every man, woman and child breathes in the equivalent of 2,500 cigarettes every year. Southern Polish cities, particularly those in Silesia, are located near this heavy industry and their air is full of its lethal byproducts looking to lodge themselves in welcoming lungs.
Burning coal in power plants results in health costs of 34.4 billion euro a  year for Poland, according to a study presented in Warsaw by the Health and Environment Alliance (HEAL), a non-profit alliance of organizations from the health and medical sector. Children, as always, are at highest risk.
The costs of the related healthcare are also distressingly high – equivalent to approximately 30% of average EU funding to Poland. The report also reveals that the healthcosts of coal-fired power stations add a financial burden to the European population of up to €42.8 billion a year.
So can a country grow and be sustainable? Maybe, but for Poland and many other countries growth comes at a human healthcost. It is true that many economies across the world are trying to catch up to those of "developed" countries, but the long term costs do not outweigh the current industrial development.
On the bright side, however,  Poland isn't the only European country to struggle with air pollution. Over 90 percent of people living in European cities breathe air that doesn't meet the World Health Organization's standards which leads, the evidence shows, to 430,000 early deaths a year. In this context, it's ironic that Warsaw hosted the recent UN climate talks. However, this might encourage Poland to take steps to clean up its air.
All in all, in my opinion, we really need to try harder to find growth-friendly solutions that also score better from the viewpoint of sustainability, both environmentally and with regard to human health.
Tags: air pollution, coal, ENVIRONMENT, growth, Poland, pollution, public health, sustainability