Fat Cat Politicians: The madness of the wages of Nigerian Lawmakers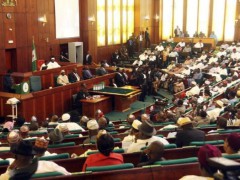 When I started my first job after graduation in 2008 at a federal owned radio and television station in Abuja, Nigeria, I was paid 40, 000 Naira a month; that's roughly about US$250.
I lived with family at the time, drove a car I really didn't have to fuel, and took holidays paid for my parents. My take home pay literally couldn't even take me home, let alone anywhere else.
But guess what? I was one of the privileged. The current minimum wage in Nigeria today is 18, 000 Naira (US $113); and quite a few state governments say they cannot afford even to pay that. And so they don't. This is despite the fact that a good number of Nigerians provide their own water, light, security, healthcare and education, all at great expense. They utilize boreholes, wells, or 'mai ruwa' (commonly found in the North where young men fetch water in carts for a fee), generators, solar panels, inverters, or kerosene lanterns and candles.
They form neighbourhood vigilante groups, keep personal arms, or 'trust in God' for safety, and either risk their lives at federal medical centers, go private (which costs an arm, a leg and maybe an eyeball), or seek help abroad.
In the same country, but definitely on the other side of the planet, are Nigeria's lawmakers, who earn 30, 000, 000 naira (or $187, 208) annually as their basic salary.  Nigeria's 109 senators and 360 representatives are fat cats, binging on money that could not only develop the country, but also give aid to other nations (and put Garfield to shame).
According to a report by The Economist, Nigeria has the highest paid lawmakers in the world, second only to Australia where their $201, 200 annual salary is only three times their country's Gross Domestic Product per person. A British member of parliament's wages stands at 2.7 times GDP, but the salary of a Nigerian lawmaker is a whopping 116 times.
A joke I found in an article written in the year 2000 says:
"How many senators does it take to screw in a light bulb, ask the jokers in Abuja? Nine, is the answer: one to forward a contract to the Senate light-bulb committee, another to pay off the committee chairman, a third to collect advance fees, a fourth to "settle" other contractors, and five more to do the whole thing again." Apt.
This is because they'd rather do nothing than something, or because they just squabble and fight among themselves. And when they actually do do something, more often than not it just worsens the situation of already suffering Nigerians. The current outrage over the #ChildNotBride episode in the Senate during the Constitution amendment is testament to this.
Pat Utomi, academician and former presidential aspirant, once said, "Nigeria doesn't have a democracy; it has a government of politicians, by politicians, for politicians".
Why haven't all the calls for the reduction of their pay been successful? Start from the fact that the actual total salary is shrouded in secrecy, and even invoking the Freedom of Information Act hasn't helped much.
In 2009, the Revenue Mobilisation, Allocation and Fiscal Commission (RMAFC) under instructions from then President Umaru Yar'Adua created a document containing a downward review of salaries and allowances for the National Assembly. Yar'Adua had said their salaries were untenable in the light of the country's finances. To date that review has not been implemented.
In 2011, a first time senator, Benedict Ayade alluded to him and his colleagues receiving "fat salaries" while the rest of the country groaned under harsh conditions. He was severely rebuked by his colleagues, and forced to retract his statement.
Nuhu Ribadu, former Chairman of the Economic and Financial Crimes Commission, says that Nigeria has lost approximately $50 billion to corruption in the last decade alone. I say let's start the search for it in the National Assembly. Less for them would definitely be more for everyone else.
Tags: Africa, democracy, developing countries, economic growth, Nigeria