Poor women in Kampala bring about change in their communities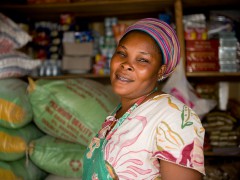 Gertrude is my neighbor. She's 50 years old but when you see her, you'd think she was 60. She came to Kampala which is the capital of Uganda about 30 years ago in search of a better life, as is the case with most African capital cities.
She started out as a waitress in a hotel in downtown Kampala. She then used her savings to start a cooking business alongside other women in the market place serving food to casual labourers. The women worked everyday except Sunday.
Gertrude used to start her day at 5 in the morning when she went to the early morning market to get the day's fresh food, then headed to her makeshift kitchen to prepare breakfast for her customers.
The breakfast menu was black tea, milk tea and porridge with optional servings of boiled cassava or yam. The yams had to be peeled and boiled to be ready by 7:30am. This is how she lived for 10 years during which time she made enough to cover her children's school fees. Today however, a lot has changed.
Life has taken its toll on her and while she still lives in the heart of Kampala, she is unable to leave her one bedroom house to go and work daily. She now runs a make-shift kiosk from outside her house which she shares with her daughter and three young grandchildren.
I met Florence about a year ago. She is an HIV positive widow and also lives in a slum area close to the center of Kampala. She lives in a 3 bedroom house complete with kitchen and living room area whose rent is paid by one of the many sons she raised. Florence lives with seven of her grandchildren and she occasionally goes to her hometown of Gulu which is in the northern part of Uganda. There she still owns farms for groundnuts and millet.
She can no longer do any digging but has hired two or three people to help her till the ground, plant, weed and harvest.
She can afford to do so because back in Kampala she is an entrepreneur . She and her colleagues from the medical centre that provides them with free anti-retro viral treatment have started a business. They make and sell paper bead jewellery  and the income this generates helps with their day to day expenses. They are organized, meet regularly and even have a steering committee.
Gertrude and Florence's stories are similar because both stories are a reminder that we still have lot of 'urban poor' in our society.
Diana Mitlin's book, Reducing Urban Poverty in the Global South presents a new approach that slum dwellers across the Global South have taken  to achieve social justice and urban rights. The book highlights five types of intervention, each of which follows a broadly similar approach.
One of these neighborhood groups which are an investment to help improve the lives of people in informal settlements — places where people lack secure tenure, running water, sanitation and waste collection. And these neighborhood groups are led by women, doubly disadvantaged by gender as well as by where they live. They develop their own solutions to the long intractable problems of urban development.
They design new sanitation systems, build houses and document their communities. For the most part, it's the woman who takes the leadership role – gaining new confidence as they demonstrate how they can improve local conditions. They network these groups so that together they can exert influence on city policy making.
Looking towards the future, this paints an encouraging picture that even while the system may have failed woman urban dwellers, all hope has not been abandoned.
Gertrude may seem like a woman who has lost all but she is still able to stand for chairmanship of the local council and begin to bring change to her community. Florence is already doing so. In her entrepreneurship group she is actually a leader. The group meets often to work together and learn new designs and improve the quality of their products. She and her fellow entrepreneurs are already bringing about change in their communities. They provide for their children and have a steady source of income.
And as Diana Mitlin writes: these urban poor women have no choice but to act:
"Faced with government promises that are broken, public expenditure whose benefits are pocketed by the wealthy, and with revolutions that welcome new elites only to have them quickly take on the behavior of the old elites, these women have embarked on and refined alternative practices."
These women can all give their communities a voice to be heard; they all can be a force for change in their neighborhoods.
Tags: Cities, gender, Gulu, Kampala, poverty, Uganda, urban development, urban poor, urbanization, women, women entrepreneurs