Quito vs. The Countryside: Where is poverty worse for women?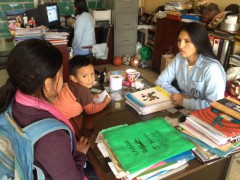 Here in the Andes of South America, $2000-3000 USD a year is good money for the average family.
Young kids at the Working Boys' Center in Quito, Ecuador help contribute to their family's financial well-being. After a normal school day, students here help make and sell crafts, but the projects are based on gender divisions. In Quito, it's a necessary division, one Miriam Chasiluisa knows well from a young age.
…………………………
In between hugs from six-year-olds and quick shouts of "¡Buenas tardes!" Chasiluisa is the center of attention in a faded green stairwell in urban Quito. She was once one of the young girls walking through these halls. Now she is the Director of Social Areas for the Working Boys' Center, overseeing the needs of 120 families and their children.
She refers to herself as a migrant. She's lived and worked in Quito since 1987. Her parents brought her and the family from the countryside to the bustling capital of Ecuador when she was six years old.
Relatives already in Quito promptly connected Chasiluisa's family with the Working Boys' Center, which helped provide medicine, clothing, education and a place to belong in the big city.
"That first year," Chasiluisa says, "was the pillar for me."
Then dad fell ill and Mom became the sole provider. Young Chasiluisa found herself helping to raise two siblings.
The Center provided access to food, clothes and a social network, aid that would have been unavailable if the family had still lived in the countryside.
She believes that an urban environment is more fruitful for women trying to obtain work, equality and a chance out of poverty. But many of the girls she now oversees are facing the same daily urban problems that she herself once faced.
"In the countryside, life is free," Chasiluisa says. "You can walk wherever you want," referring to the safety and connectedness of the campo, or countryside.
The city elevates access to education, and gives equality a fighting chance. But the realities of urban living quickly dash those hopes for full gender equality.
Part of the Working Boys' Center's requirements include teaching students craft skills at a young age and selling their products to learn how to build up savings at the Center's bank. According to volunteers at the Working Boys' Center, children help earn 15 to 85 percent of their family's annual income. In my short time interacting with the children at the Center, it seemed to me that girls and boys grow up more quickly here in Ecuador than kids do on average in the U.S.
Boys sell items throughout the city while girls stay in the confines of one of the Center buildings to piece together items for sale like handmade greeting cards or religious bracelets.
Aside from mandatory shower time and a few separated English classes, little else is gender-segregated at the Working Boys' Center.
Why perpetuate distinct gender work roles in 2013?
"The reality is that girls are a little more vulnerable," Chasiluisa said, her eyes trailing and her mouth tightening, thinking of what could happen to the young girls in her care.
"Not that there's not danger for the boys," Chasiluisa interjects, referring to males as the "stronger sex."
 ………………………….
Today, Chasiluisa and husband Ivan have two kids, Samantha, 6, and Nicolas, 3. They both take classes and spend time at the Working Boys' Center in a developing neighborhood in Quito. In the country and in the city, there are tradeoffs between safety, lifestyle and education. But even today, it seems their gender may affect their opportunities and life paths as much as the location of their upbringing.
Jamie Stark is traveling north through South and Central America, writing for FutureChallenges as he goes. Follow his travels at twitter.com/jamiestark or on his blog, here.
Tags: Center for the Working Girl, city, Ecuador, Jamie Stark, Jo Hook, Miriam Chasiluisa, poverty, Quito, Urban, women, Working Boys' Center