Research Methods 101 revisited: By Bonnita Nyamwire, Research Manager, Pollicy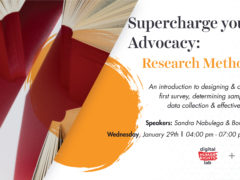 On the 29th of January 2020, the DHRLab and Pollicy organized an interactive event on research methods to discuss challenges in data collection and possible solutions. The attendees were members of different Community of Practices under the DHRLab.
Sandra Nabulega, a junior researcher at Pollicy, discussed the need to identify an appropriate study design for your research question. She said: "If your survey is assessing a one-time event, use a cross-sectional study, if it involves following research subjects for some time, then use a longitudinal study design" A cross sectional study is one where events are assessed at one point in time( a snap shot), while in longitudinal studies research is carried out on the same subjects over a period of time some for many years https://www.iwh.on.ca/what-researchers-mean-by/cross-sectional-vs-longitudinal-studies
"What happens next after you have identified the study design?"
"You need to have the right study population to answer survey questions and an appropriate study area where the problem you are studying is prevalent", she replied. Participants were eager to know if all the people in the study population are included in the survey. Sandra stated that this is not possible, because of different constraints including time and financial resources, so one has to estimate a portion of the population to participate in the survey and this is done through calculating the sample size. But even when the researcher has the sample size calculated, they need to determine how to get to the final person to administer the interview. This is done by using different sampling techniques. Sandra explained that these techniques may be probability-based thus allowing each study participants an equal chance of being selected, whereas the non-probability participants are conveniently or purposively selected to participate in the study.
Bonnita Nyamwire, Research Manager at Pollicy, stressed that after achieving all these steps Sandra previously mentioned, the researcher needs to select appropriate data collection methods and these could be quantitative where the focus is on numbers, or qualitative where data collected is mainly in text form. She further explained that either method of data collection can stand alone or that they can be used together.
"What about data collection tools, are they the same for both methods of data collection?"
"Absolutely not!" she replied. Bonnita mentioned that each method has different ways of collecting data. For quantitative, it is commonly conducted using face-to-face interviews with closed-ended questions. For qualitative methods, it is conducted by either talking to about 8-10 people in a group or digging in-depth in the topic with one participant at a time. Participants of the training asked to know the difference between closed-ended and open-ended questions which Bonnita then took them through with examples. She emphasized to the participants the need to pretest the study tools i.e. the questionnaires, to find out if they are appropriate, reliable and accurate in collecting the information they are supposed to collect.
Participants further asked: "So what happens to the data that is collected?"
"It is analyzed and used in writing out the findings of the survey" Bonnita replied. She explained that because of the different methods of data collection, data analysis is also different. Quantitative data is largely numerical thus it is explained by describing and summarizing characteristics, or showing relationships and associations between the different study variables. Whereas for qualitative data, the text is organized to form themes and quotations that are used in writing the findings of the survey. Bonnita further mentioned that after writing out the findings, researchers should not keep them on the shelves but rather share them with different audiences like study participants, interested scholars, policymakers, and organizations that work in the area of your research topic. She elaborated that sharing your work from the survey can be done through conferences, blog posts, social media platforms and publishing it in journals. It was energizing to know that participants in the room were aware that plagiarism is a transgression a scholar can commit. Thus, as a researcher one has to check for plagiarism before submitting your work to avoid presenting someone else's ideas as if they are yours.
Does research have an ethical code of conduct that has to be adhered to?
Participants agreed to this. Bonnita emphasized the need to have a research study approved by an established Ethics Review Committee. She remarked that during data collection, researchers must observe the ethical code of conduct through obtaining informed consent from study participants, keeping their information confidential and minimizing the risk while maximizing their research benefits.
Participants were eager to know how to write out the findings of the research study/survey. In the next session of this series, "Supercharge your Advocacy", we shall discuss how this is done.
Watch out for this next session on 20th Feb 2020.