Roma in Bulgaria: a neglected abandoned minority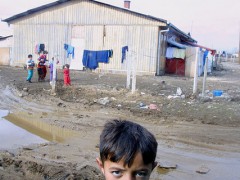 At the moment Bulgaria is governed by a caretaker government appointed by the president because the ruling party GERB resigned at the end of February after a series of country-wide protests. They started innocently enough against the unexpectedly high electricity bills people were unable to pay. All that citizens wanted was the end of the electricity providers' monopoly and cartels. But instead of solutions and action, all they got was wholesale resignation by their government.
More interestingly though, was the face of the crowd that brought down the government. It was not homogenous, but rather the face of a very rough democracy. In it you could see hippies who wanted nature protected, yuppies dissatisfied with bank interest rates, students unhappy with the quality of the education at Bulgarian universities, retired people protesting about low pensions, and so on. What you didn't see were any representatives of the biggest Bulgarian minority – the Roma. No wonder why: at one of the bigger marches, a speaker took а megaphone to urge tolerance towards minorities and non-violence. Various skinheads shouted insults in response, and told the speaker 'to go back to his Gypsies and Turks.'
Not that the Roma have no grounds to protest. Arguably, they have the largest number of reasons to criticize the government, and not only the most recent one, but all governments since 1944. Both in communist and democratic times, theirs is the ethnic group that has been most neglected and marginalized by decision-makers. Absorbed by other problems and fearful of giving concessions to an unpopular minority, none of Bulgaria's governments over the past half century has taken substantial measures to improve the economic status and social mobility of the Roma people.
Officially, Bulgaria is home to 370,000 Roma. NGOs estimate this number as high as a million but most probably it is somewhere inbetween – 800,000, say, or 10 percent of the population. This is the poorest part of Bulgarian society – unemployed and illiterate.
What were they doing while the rest of the Bulgarians were out at the streets protesting?
In the Roma ghetto HristoBotev, where tarmac is just a memory, Ivan pushes his crate along a muddy way towards the garbage cans of the city. He lived and worked for eight years in Spain, first as a shepherd, then in construction. When the crisis hit in 2008, he lost his job. Thanks to his years of work, he received unemployment benefit of 420 euros a month for two years but when that ended, he came home – leaving his two daughters and wife there who works as a house maid.
In Sofia, Ivan makes ten euros on a good day, nothing on a bad one, mainly recycling plastic bottles. He gets 15 cents a kilo, and can earn a maximum of 150 euros a month. He plans to go back to Spain as soon as the weather improves. 'Here you just survive from day to day.'
He is headed towards the local shop where most of the customers buy on credit. 'The situation in Bulgaria is a catastrophe,' says the owner, 'every government has lied to us.' At the next election, on May 12, he won't vote 'because there is nobody to vote for.'
A woman who comes into the shop says that there is huge rage in the ghetto, because the then-governing GERB party recruited Roma for their pro-government rally by promising them ten euros each, then refused to pay when they took them back home.
Disappointment, neglect, and abandonment characterize the relationship all Bulgarian governments have maintained with the Roma – some 10 percent of the population. And as there are no signs that any effort will be made soon to integrate the marginalized Roma minority, Roma people will continue to live as they have always done in a poverty trap.
Tags: Bulgaria, Central and Eastern Europe, discrimination, GERB, minority policy, poverty, Roma, Roma inclusion, social inclusion