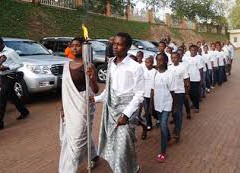 I believe some of you have heard about the 1994 genocide in Rwanda. This April the people of Rwanda are marking 20 years since the genocide was stopped by a rag tag rebel group of the Rwandan Patriotic Front (RPF), the group that is currently ruling Rwanda.
The genocide claimed lives of at least 800,000 people of mainly ethnic Tutsi and moderate Hutu within a time of 100 days. The seeds of hate which had been sown among the people of Rwanda exploded in April 1994 where Rwandans killed each other en masse.
On April 7, the people of Rwanda came together to say never again should such a massacre occur in their land. They were joined by world and regional leaders like the UN Secretary General Ban Ki-moon, former British Premier Tony Blair, African Union Commission chairperson,  Dr. Nkosazana Dlamini Zuma, and Uganda's President Yoweri Museveni.
It's important to note that Uganda and Rwanda share a great deal of history apart from the two countries being neighbours. The current president Rwanda Paul Kagame participated in the armed rebellion that brought president Museveni to political power in 1986. After Museveni's rebel group had capturded Kampala, Kagame was made director of Uganda's internal security intelligence agency (ISO).  Kagame had grown up in Uganda as a Rwandan refugee.
But, when he was fed up of serving a 'foreign' country, in 1990 Kagame supported the Rwandan exiles in Uganda that matched to Rwanda to launch armed rebellion against the government of Juvenal Habyarimana, the then president of Rwanda. After nearly four years of fighting the RPF took control of the Rwanda government. Today, the members of RPF are still running the show in Rwanda.
The assassination of Habyarimana reportedly sparked off ethnic cleansing between the majority Hutu and minority Tutsi. The international community was indifferent to the mass killings that were happening Rwanda in 1994. France and the UN which had their boots on the ground have been accused of not doing much to avoid or stop the genocide.
In fact, the April 6, 2014 remarks by president Kagame insinuating that the French and Belgian officials who were in Rwanda in 1994 could have had a hand in the genocide have angered France. Indeed, France reacted by not attending this year's genocide commemoration. The annual commemoration of genocide (Kwibuka) lasts 100 days symbolizing the number of days in which the Rwandan genocide is said to have lasted.
A flame of remembrance was carried across Rwanda to the national genocide memorial, where it will burn for 100 days. The official "Kwibuka" mourning – meaning "remember" in Kinyarwanda (Rwanda's national language) – begins on 7 April and ends on July 4, a day when RPF marked to Kigali, Rwanda's capital and stopped the genocide.
This year's message for "Kwibuka" encourages Rwandans to be united and treat each other as Rwandans; instead of looking at each other along ethnic lines.  US President Barack Obama also paid tribute to the victims of genocide, saying the genocide "shook the conscience of the world".
"The horrific events of those 100 days – when friend turned against friend, and neighbour against neighbour – compel us to resist our worst instincts, just as the courage of those who risked their lives to save others reminds us of our obligations to our fellow man," Obama said in a statement.
Today, Central African Republic is experienced sectarian war which some people are warning could result in genocide. The same is being said of Syria. Hopefully, the world will unite to do more to prevent such dark occurrences  today and in future.
Tags: Africa, France, Kwibuka20, Rwanda, Rwanda genocide