English Speaking Initiatives in Thailand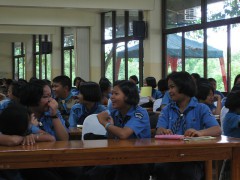 This article was originally drafted by the Strategic Foresight Group for the newsletter "Asian Horizons" as part of the Rockefeller Foundation's Searchlight Process. For more Searchlight content on futurechallenges.org, please click here.
Thailand is witnessing a rise in the number of initiatives by the Ministry of Education (MoE) and private sector companies to improve English language skills among Thais. In the coming years, greater proficiency among young adults in English will boost their employment prospects.
English Camp in Thailand. (By Matt Koltermann from flickr.com, BY-NC-SA 2.0)
According to the 2011 survey conducted by the public organization National Institute of Educational Testing Service, university entrance assessment shows that Thai students scored on average 28.43% in English. More than two-thirds of Thailand's population belong to low income households that cannot afford to send their children to schools where English is taught.  Since 2010, the MoE has launched 500 public schools with the "English for Integrated Studies" (EIS) approach, specifically designed to help underprivileged children learn English with minimal expense. Under EIS, the core subjects of Mathematics, Science, and Computers are taught in English. The result of the pilot EIS approach introduced in Thai medium schools in 2005 showed an improvement in the level of English language understanding and speaking among students.
In 2012, the MoE also embarked on the "English Speaking Year 2012" initiative targeting the 14 million students in its 34,000 public primary and secondary schools. 4,000 volunteer teachers from England will be hired to train non-English speaking Thai teachers in public and private schools. The MoE has also allotted around USD 3.25 million to train 1,137 local Thai teachers in native English speaking countries including the US, Canada and Australia. These programs are intended to address the shortage of teachers proficient in English in the Thai school system.
English Camp in Thailand. (By Matt Koltermann from flickr.com, BY-NC-SA 2.0)
English language initiatives could have a significant impact on students from poor households entering the job market. Thailand is set to integrate into the ASEAN Economic Community in 2015, leading to a single market and production base which has English as a common business language. These initiatives will boost employment prospects for poor students. Recognizing this potential, the MoE's English language programs are being supplemented by private sector companies training existing unskilled labor. In 2012, Bangkok-based Traffic Radio Society FM 99.5 MHz trained around 2,000 tuk-tuk and taxi drivers through its one day crash course in the English language.  Since 2008, under its "Welcome Guide to Thailand Project", Thailand-based hotel developer Erawan Group has conducted free English speaking classes. According to the English Language Development Center –a Thai government initiative to equip labor industries with English—80% of personnel in the tourism industry need speaking skills in English to interact with tourists, while 60% needed listening skills, 30% writing skills, and 20%  reading skills. In 2012, local private language company, ETC-Thai, launched a customized Hospitality English Language Training Schemes (HELTS) to train staff working in restaurants, bars, front offices, housekeeping, and management.
There are various hurdles in the development of this trend. Currently only 2% of Thai public and private schools use English as the medium of instruction and less than 20% of teachers teaching English have degrees in the English language. These schools also charge higher fees than schools where Thai is the medium of instruction, making it difficult for poor children to afford them. Foundations could help with customized English language training for teachers at various levels according to their needs and abilities, thereby increasing the size of the pool of teachers proficient in the language and increasing their availability to schools.
Sources:
Tags: English language, School, southeast asia, teaching English, thailand