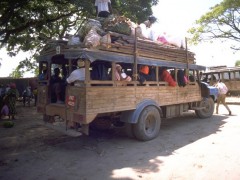 This article was originally drafted by the Society for International Development for the newsletter "GHEA Outlook" as part of the Rockefeller Foundation's Searchlight Process. For more Searchlight content on futurechallenges.org, please click here.
For decades, there have been numerous diagnostic studies, reports and policy papers trying to figure out ways to establish urban transportation in major African cities. Despite these efforts to formulate effective urban planning, official public transportation systems are still distant dreams for most cities. According to the World Bank's Africa Infrastructure Country Diagnostic "effective urban public transportation requires coordinated attention to urban planning, to the construction and maintenance of infrastructure and to the organization of transport services."
At the heart of the problem is the inability for the cities to meet the growing demand of the population due to rapid urbanization. Although many of the cities had large government owned busses serving as a crucial linkage for urban transportation, maintaining this and trying to keep the business afloat was difficult without any public subsidy. This led to a deterioration of these nationalized buses and in the vacuum the shift to minibuses began. The rise of minibuses, matatu and dala dala, and informal urban transportation units was not primarily due to the deregulation of public transportation but a local response to growing demand and commercial opportunity.
Dala Dala in Zanzibar from Wikimedia Commons.
Matatu and dala dala drivers and conductors provide a crucial service to a society which nevertheless sees them as somewhat undesirable. They are at the same time part of society and alienated from it. This duality of being both included and excluded into society represents the dilemma faced every day by the drivers and crew from this informal transportation industry. The dominant narrative about the transport sector workers is negative. James Kariuki, the matatu driver covered in a documentary by Al-Jazeera, wrote a telling letter to The Daily Nation, one of Kenya's major newspapers, that in many ways explains the life of a matatu driver and their relationship to a society that hates and needs them: "I am one of those you just love to hate. We're the backbone of Kenya's black market, expected to pay off everyone from police to criminal gangs."
An official urban transportation system could destroy informal transport workers' livelihoods
The majority of the recommendations provided by the diagnostic studies claim that establishing an official urban transportation system complemented with metropolitan transport authorities is the solution to the current challenges in urban transportation. Bus rapid transit (BRT) implementation and using larger buses instead of the minibuses used by the informal sector are also suggestions promoted by "official" assessments of urban transportation. "Large buses provide greater comfort, safety, and speed than minibuses, particularly on high density corridors, if they can be managed efficiently and sustainably. They also hold out the promise of relieving the growing congestion of African cities." The assumption here is that these large buses will solve the majority of the problems but it isn't clear whose problems it will solve and what is to become of the informal sector. Will they be brought into this new bus service? According to a report titled "Sustainability Assessment of a Bus Rapid Transit (BRT) System: The Case of Dar es Salaam, Tanzania" if dala dala drivers were asked to join and drive a bus service owned by the government, 37% of them would decline the offer.
Minibus in Cameroon from Wikimedia Commons.
In an attempt to improve the efficiency on aggregate of urban transportation, there is a very real risk that "informal" transport providers will be completely cut out due to the tendency to exclude them from any discussion. This pattern is not dissimilar to the transport corridors where you can lower the aggregate costs to the economy but you raise it for the poor and vulnerable. A BRT system in Dar es Salaam or Nairobi or any of the major cities will surely kick the drivers out of the labor market. By establishing a formal bus system, there will be certain rules and regulations the drivers will have to follow. Who will teach and train them these rules? Most of the drivers do not have licenses, what will happen to them if they cannot pass a drivers test? The BRT report states that daladala drivers who have secondary education and above will be trained and recruited as BRT bus drivers. Most of the drivers only have a primary education.
Matatu drivers have solutions, but who is listening?
After dissecting James Kiruiki's blog and the documentary on him, it is clear that the people in this informal transportation industry understand the problems and have solutions. However, do people listen to them? Conventional wisdom has usually guided officials and transportation gurus to ignore the word of matatu and daladala drivers because they are uneducated thugs that have nothing of value to say.
The blog paints a different picture and shows that James and his colleagues do have solutions to improve their industry and urban transportation in general. A lot of their solutions correspond with official recommendation such as education campaigns about traffic rules and regulations, regulation and oversight focusing on data information, vehicle registration and establishing effective unions for the drivers. Streamlining the recommendations of the drivers in the industry with official policy may go a long way into improving the urban transportation system. More inclusion, less exclusion may be the best way to have the best solutions implemented.