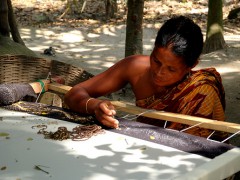 This article was originally drafted by the Strategic Foresight Group for the newsletter "Asian Horizons" as part of the Rockefeller Foundation's Searchlight Process. For more Searchlight content on futurechallenges.org, please click here.
There are 6 million SMEs in Bangladesh, roughly 4.5 million of which are in rural areas. In Bangladesh, SMEs lack sufficient access to loans and know-how as financial institutions prioritize large corporations. In order to remove this financial barrier, some policy changes have been made by the government and financial sector. These changes have the potential to empower women entrepreneurs in the country.
Acknowledging the SME sector's potential to reduce urban-rural income disparity and to promote a gender-balanced economy, the Bangladesh Bank (BB) in coordination with SME Foundation organized a 2-day, 7-city SME Financing Fair for banking and non-banking institutions in February 2011. BB introduced a Refinance Scheme which provides SMEs loans at a lower rate (10%). BB allocated 15% of the scheme's fund for women entrepreneurs alone. Tk 41.1 million (USD 517,000) worth of loans sanctioned were awarded to social entrepreneurs at the first fair in Chittagong. BB has also instituted a region-based SME cluster development scheme implemented by banks which capitalizes on locally available raw materials.
A woman making jewelry in Bangladesh (by A.K.M Monjurul Hoque Topu via flickr.com CC BY 2.0)
In July 2011, the Central Bank redefined SMEs to include microenterprises and cottage industries in all its SME loan policies and programs. For the first time, it also included and gave definition to women entrepreneurs. The move is expected to aid in gender mainstreaming as well as in positioning women entrepreneurs to benefit from government schemes. Banks in Bangladesh are expected to increase financial access to cottage and microenterprises under the new guideline provided by the government. In December 2012, the Central Bank issued a directive to all banks to implement processes to clarify the SME financing policy by training employees sufficiently to provide information and disburse loans efficiently. The Central Bank has also made refinancing funds available to banks from the BB, Japan International Corporation Agency and Asian Development Bank.
In recent years, numerous schemes and programs have attempted to build the capacity of those wishing to start their own SME and have also disbursed loans and credit. In October 2011, the government introduced a revolving fund of Tk 600 million (about USD 7.5 million) for microcredit to encourage self-employment among unemployed educated youth in fisheries and livestock. The Ministry of Fisheries and Livestock will run this grant, providing loans interest-free and with no payments for the first year. The Ministry of Finance is also injecting an additional USD 247 million (to the previously allotted annual USD 1.2 billion) to float skill building projects with an emphasis on small and medium scale enterprises as well as agriculture. Since December 2008, the Bangladesh Small and Cottage Industries Corporation (BSCIC) has provided USD 21,000 in soft term loans and training facilities for 536 people in Chittagong under the poverty alleviation program to facilitate ventures in poultry raising, confectionery, welding, tailoring, laundry and computer training centers.
While these policy changes have boosted SME growth, SMEs continue to face obstacles, such as lack of access to infrastructure and utilities, lack of access to support centers and information regarding markets, development and bureaucratic procedures. Moreover, lack of access to affordable technology, poor labor productivity and lack of skilled labor are restricted SME growth. Support from the government in reducing high interest rates, boosting export markets, developing research facilities and implementation of the IP law may boost this trend. Foundations could assist in devising methods for providing technical and financial support through such schemes to improve the success ratio and possibly increase the number of people benefiting in the long run.
Sources:
• '2-day SME fair kicked-off to promote SME sector in Ctg.' The Daily Sun. 16 February 2011.
• 'SME: new definition to herald new life.' The Daily Star. 28 June 2011 • 'Focus on common fund, technology transfer to promote SMEs in D-8.' The Financial Express, Bangladesh. 9 October 2012.
• 'BB directs banks to better SME loan services.' Bank Info Bangladesh. 21 December 2012 • 'Tk 60cr fund for self-employment of youths." The News Today. 16 October 2011.
• 'BSCIC helps large number of jobless becoming self-reliant in Ctg.' Bangladesh Economic News. 24 December 2008 • 'FBCCI moves to create jobs.' The Daily Star. 13 December 2009.
• 'One house one farm scheme kicks off next month.' The Daily Star. 31 December 2009.
• 'Job Creation for poor gets a boost.' The Daily Star. 8 June 2012.
• 'Project launched to create jobs for poor women.' Bangladesh Sangbad Sangstha. 19 July 2012.