Short list of Russian agressors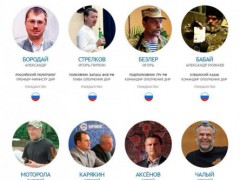 Important disclaimer by the author: "Futurechallenges.org wants to promote the understanding of people worldwide. We do not think in categories like "nations" because we think that this concept is the cause for conflicts in the globalized world. So when I as the author of this post write about "Russian terrorists" it does´t mean that I have something against Russia or Russian people! Its only due to the fact that the current aggressors in Eastern Ukraine mostly have Russian citizenship. I have something against people who are aggressive against ordinary people."
Some media channels insist on calling Russian aggression against Ukraine "inside-Ukrainian conflict", but even a cursory look at the main characters of the conflict contradicts that version.
So let us look at who these people in command of the so called "Donetsk and Luhansk People Republic" (entities identified by the Ukrainian state as terrorist organizations) really are. Perhaps they are Ukrainians who oppose the new government in Kiev? Maybe they have just formed an armed "people guard" to fight for increased rights for the Russian speakers of Ukraine? All of this seems plausible so let us step back from Russian dominated media and let us take a look at some of the leaders of the "people guard" and their stories.
1. Alexander Borodai, Russian politologist, prime-minister of the so called "Donetsk People Republic" (DNR). Borodai has worked as a political adviser to Sergey Aksyonov, the prime minister of so called "republic of Crimea", an unrecognised enclave and a part of Ukrainian land annexed by Russia.
Borodai periodically consults with Moscow about every step taken. In his interview for Russian radio "Echo of Moscow" he claimed: "I just recently was in Moscow where I had plenty of different consultations. I would not like to talk about them". Recently Ukrainian security services have published on Youtube a conversation between Borodai and the deputy secretary-general of the "United Russia" party Alexey Chesnakov. These two Russians discussed over the phone what they managed to 'achieve' in Ukraine. "We have a lot some fucking bad facts. And from day to day we have more these facts. Today I imposed a new 5% tax for local Ukrainian business as your economists (in Moscow – O.Sh.) suggested me. The businessmen rose, nodded and went out. They were fucking completely shocked there. All the city in continuous robberies and gunnings".
2. Igor Girkin aka Strelkov (Rifleman). He was born in Moscow. All his adult life Girkin was involved in citizen conflicts with active support of Russian government. He supported separatist wars in Moldova (1992) and in Bosnia (1993). Bosnian site Klix.ba accused Girkin of involvement in murder of 3000 people during the Bosnian war. From 1995 Girkin suppressed the free Chechen popular uprising. In Ukraine Girkin got the minister of defence position of the so called "Donetsk People Republic". His main tasks are the repression of Ukrainian civilians and the armed insurrection against the Ukrainian Military.
3. Igor Bezler aka Bes (Devil). Lieutenant Colonel of Russian Military Intelligence. He is a citizen of Russia, but from 2002 has lived in Ukraine. The Security Service of Ukraine claims that until 2002 he served in detachments of the Russian General Staff GRU retiring as a Lieutenant Colonel.
When Russia occupied Crimea and instigated a war in the eastern part of Ukraine, Bezler became one of the leaders of the terrorist organization "Donetsk People Republic". On the first of July 2014 even Russian state TV channel "Russia Today" called Igor Bezler's squad "terrorists".  "About the clash of people guard and terrorists in the city RIA Novosty tells us that "Igor Bezler aka Bes with his squad seized the UVD building".
Bezler's squad allegedly shot down the Malaysian flight.  The Security Service of Ukraine (SBU) intercepted his phone conversation with Russian "coordinator" Vasyl Mykolaiovych Geranin. SBU claims he is a colonel of the Main Intelligence Directorate of the GRU, Russia's military intelligence apparatus. "We have just shot down a plane. It was the Minera group. It fell down outside Yenakievo," Bezler allegedly told Geranin. "The plane broke into pieces in the air, close to Petropavlovskaya mine. There is the first two-hundreth (sic) dead, we have found the first two–hundredth (sic). It's a civilian."
4. Arseny Pavlov aka Motorola. Marine from Russia. A commander of an antitank special unit of terrorist organization DNR. He came from Russia to support undercover military aggression against Ukraine. When he was asked by a journalist how he arrived out in Ukraine he answered: "I took a train and came. Did not fathom. There are Russians, so I came. I have already said: when they at Maidan started to throw Molotovs cocktails at the police, I understood: this is a war. After naziki (in such a way some Russians call Ukrainians) claimed that for a Ukrainian they would kill ten Russians, I did not see any sense to wait until their threat would become reality". So as you can see a  Russian Military soldier just decided to wage war in Ukraine after hearing some unsubstantiated rumours and fictions.
5. Vladimir Antyufeyev  aka Vladimir Alexandrov, Vladimir Shevtsov. First deputy prime-minister of the 'Donetsk People's Republic'. Like Girkin he was actively involved in the Moldovan separatist war. After the conflict he was appointed in position of the minister of state security of the unrecognized Pridnestrovian Moldavian Republic (PMR) known in the West as Transnistria. Because Russia is possibly planning to create in Ukraine a kind of Moldavian unrecognized enclave (DNR is very similar to PMR even as an abbreviation), Antyufeyev would fit that plan incredibly well.
The list can be extended with tens of well known Russian ethnics, but for every known one there are hundreds others that we do not know about, as the border in eastern Ukraine is controlled by separatists who allow throngs of 'freedom fighters' to enter Ukraine and free our country from "fascists". Because 'Fascist' has become the rallying call for many who use the term to describe anybody who opposes the idea, actively promoted by the Kremlin, that Ukraine has lands which belong to Russia. While you have been reading this text Russian insurgents have likely killed more Ukrainians. Moscow trained separatists and in all likelyhood the Russian regular army have been shelling Ukrainian troops from abroad and shooting down Ukrainian planes. Sometimes they miss the target. And that is how we get to read in the news about tragedies like MH17. Even if Ukraine has to fight this insurrection alone, at the very least the rest of the world should stop calling this and"inside-Ukrainian conflict" and acknowledge it for what it really is.
Tags: aggression, Russia, terror, ukraine