Slovakia: Bratislava, city border in spring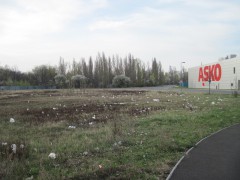 As part of our  coverage on "The New City" we asked our bloggers for some pictures from their cities. Are there any places in their cities that are prime examples for sustainable urban living? But it could also be a negative example in order to show how a city should not look like.
This is how it looks like at eastern side of Bratislava, Slovak capital, just nearby the shopping center. It is necessary to note that this area was cleaned just few weeks ago. And that EU unfortunately does not push for plastic bags ban in its countries (also) because of possible loss of over 15 000 related jobs. Planned reduction of bags usage is not threat for them?
Tags: Bratislava, sustainability, urban living, urbanization, waste management