Taking a Second Shot at Democracy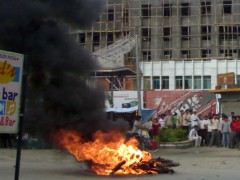 Second chances are hard to get. And when they do come they are burdened with the nostalgia of a failed past, hopes for an aspirational future, and tinged with a splash of careless apathy that banks on a third chance if this second one is missed as well.
Nepal is now readying itself for a second constituent assembly (CA) election on 19 November as the first constituent assembly, elected in 2008 to write an inclusive constitution, failed to produce a document and was dissolved on 27 May 2012. The first election was preceded by a decade-long civil war, and the rise of the 2006 Jana Anadolan II (Peoples Movement II). Millions of Nepalis marked the election by a euphoria expressed through the ballot. Six years on, much of that initial optimism has evaporated. What remains is distrust towards the entire process and those heading it. Many people are relieved that democratic elections are taking place, but are still uncertain what they mean for them, and whether their lives will be at all improved by them.
I myself am one of those not entirely convinced that this election will find solutions to the most pressing problems affecting Nepal and people like me. As a Nepali citizen, I have a stake in the larger debates that this election promises to resolve: debates on matters like the form of government (directly elected president or parliament-elected prime minister), the implications of a federal system (ethnic-based or based on economic viability), and questions of inclusive development. Nevertheless, as a Nepali student studying in India my concerns are limited. Like me, the thousands of Nepali students in India are concerned about the possible effect a new regime will have on the country's relations with India, the high and rising unemployment and underemployment rate in Nepal, and the lack of opportunities beyond Kathmandu. These questions have been asked but none have yet received an answer.
India receives a large contingent of Nepalese students each year. While a number of them have scholarships, there are many others who pay enormous sums to receive a "quality education". The high cost of education and living in India's urban centers, and a fixed exchange rate of 1.6 Nepali rupees to an India rupee make finance a painful operation. Even so, this doesn't limit the influx of Nepalis looking for a higher and better education, and well paid jobs.
The opportunities for a Nepali student in India are vast. Indian and Nepali citizens can move freely over borders, and work and live in each other's countries, a privilege not afforded to most other nationalities. Nepali workers, students, and small business people are the biggest benefactors of this visa free regime, but the ongoing turmoil in Nepal, the real and perceived slights by the Indian administration towards Nepal, and India's security concerns are all factors that can threaten it. The lives and relationships of those who move freely across borders can be gravely affected as a number of major political actors in Nepal advocate the re-negotiation of the 1950 Treaty of Peace and Friendship between the Governments of India and Nepal. Bereft of the vote and with little heed being taken of their concerns, there is widespread discontent among Nepali students in India. The frustration of having a democracy but not being able to participate in it is palpable at get-togethers, and meetings.
The lack of absentee voting for Nepali citizens residing outside Nepal is another major set back. While there has been movement towards establishing such a system, it has been too slow to ensure that we get to vote in this upcoming CA election. With a great number of Nepalis living outside the country – and  with perhaps the largest chunk of this absentee population residing in India – the nation loses out on many votes from an important constituency. According to the census of 2011, the absentee population has more than doubled since 2001. In a democracy, sensitive to demands of constituencies that can cast a vote, the concerns of the absentee population fall on deaf ears.
Yet, the importance of a democratically elected CA should not be underestimated and people still have hopes that some basic demands will be addressed. In the short-term the new government should speed up the process of absentee voting, and implement it by the next elections. It should also provide more scholarships, ease transport costs, and ensure hassle free transit across borders. Cases of violence, harassment, and violation of the rights of Nepalis living in India should also be taken up by the Embassy as an urgent priority and a provision for relief should be set up. These are all small steps that will deepen and strengthen our faith in a democracy that works for all citizens.
In a few days Nepal will once more try to reconcile the expectations of various ethnic, religious and caste groups. Inevitably this election will be about addressing past grievances. Important though that is, the post 1990 generation of students who have never experienced a stable and peaceful state, are getting impatient at the state's failure to take them seriously. Will anyone heed their legitimate demands for jobs, education, opportunity, and democratic participation? We will find out soon enough.