Technology for Social Good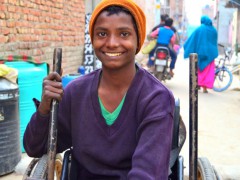 The India Social Good Summit 2014 was recently held by UNDP India at the Indian Institute of Technology at New Delhi. The key message was 'Technology for Social Good'. The summit showcased four technological innovations that were changing the lives of people for good. It was a rather apt location too, as IIT Delhi leads the nation in technological innovations.
So what do we need more of? Technologies that will be a powerful force to create a more equal society by 2030. "We can change the world if we apply technology to the big problems of today. Some of the most exciting innovations are coming from people who are using technology to enable everyone to live a life of dignity," said Lise Grande, UNDP India Head at the summit. 
Developed nations undoubtedly lead in research, innovation and development. Imagine if small technological innovations bring such changes in the lives of people, what if the giants joined forces to develop aids for people in need. Now imagine four bright MIT graduates get together and form an exciting social enterprise that works with the people to develop an innovation that they use. Tish, Mario, Ben and Amos founded the Global Research Innovation and Technology (GRIT) in 2012. GRIT invented the Leveraged Freedom Chair (LFC), which is being called the 'Mountain Bike of Wheelchairs'.
What makes the LFC different from regular wheelchairs is that you can off-road in them! Yes, a wheelchair that is bio-mechanically more efficient, 80% faster than a regular wheelchair, and delivers 50% more torque. The LFC was designed and tested with actual users in field and built from commonly available materials, hence repairable anywhere.
Why this innovation is important in the context of mobility is the vision of the innovators- Independence, Empowerment, Access and Affordability. The LFC has gone beyond the question of mobility for its users; it is focused on providing ability. Statistics show that LFC users not only have better mobility, but have increased confidence, more independence, and are on their way to create livelihoods for themselves.
In developing countries, disabled friendly spaces are rare. Lack of good roads, access to public utilities and remoteness of rural areas makes life harder for people with disability. The LFC bridges this gap by its enhanced utility and powerful features. So in essence it is overcoming two barriers- one of the user, and the other of their environment.
Stories of users abound. Ravi (left) is a 15-year old boy from New Delhi, who suffers from mild cerebral palsy. For a 15 year old, being limited to the confines of his home, and unable to use crutches, the LFC was an innovation that changed his life for the better. Now he is an outdoor person, and doesn't have to worry about wearing out his LFC, because he can fix it with local bike parts.  He is stronger, has a better appetite, and improved social interaction skills.
Premlata (40) also lives in Delhi and her spinal cord is gradually wearing out. She was advised exercises by doctors, but there was no means for her to engage in physical activity. The LFC has enabled her to get enough exercise and she feels livelier. Her nerves were weak and the exercise has helped her gain strength.
The LFC thus addresses two key problems that people with disability face- the social stigma and the need for exercise. In traditional cultures, disabled people are still viewed with sympathy, even discriminated upon. And with limited mobility, they are also unable to get enough exercise. The LFC changes these dimensions by giving them a contraption that puts them in a much better situation, if not at par compared to the physically fit. And it also gives them necessary exercise that stimulates their body as a whole increasing self-confidence by improving physical fitness.
The LFC is certainly a game-changer in mobility devices that had a technology that is doing wonders, it is also a significant marker for way of things to come. Small innovations are usually adaptations, modifications to existing aids. But this innovation is something that was wholly developed by and for the users. That is the LFC putting the key message 'Technology for Social Good' at the centre stage.
See how it works:
This post was created for the Siemens foundation. The blogger was compensated for this work with the amount also covering any travel expenses.
Tags: Development, Empowering People Award, GRIT, india, Indian Institute of Technology, innovation, Leveraged Freedom Chair, Mobility, Siemens Stiftung, Technology