The Common Challenges Students Face When Studying Abroad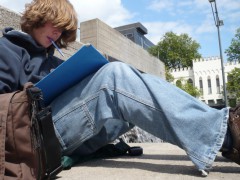 Life gets really exciting when you decide to move to another country for your studies; yet soon enough reality strikes again. New country means new life, a chance to pull your shit together and start from scratch. However, things are commonly easier said than done. Perks of the past will consequently haunt the deeds of the future, yet change is in fact doable; the downside of it is that it doesn't happen overnight. New life brings new responsibilities, the ones that were out of your concern until the moment you decided to cross borders.
 Growing up is a hurtful process and being on your own during such a sensitive period is another inevitable milestone one has to reach. Sometimes, being a student's feels like this never-ending experiment some prodigy has invented, and enjoys piloting over your life. Once you get a grip on that joystick, you will face and beat all of the following challenges you won't be able to avoid once you step foot on this foreign land of opportunities.
Bureaucratic Procedures
For once, all those formalities one has to take care of when they arrive are indeed frustrating. Students tend to be quite attracted to Europe when taking a gap year, or applying for an exchange program especially from overseas. Europe indeed welcomes foreign students yet laws are laws, and every student shall obey. Find a decent place to stay is usually troublesome, not to mention decent roommates. Applying for the student visa, residency permit, along with other legal procedures concerning the right to stay and work in the designated country is no joke, especially if you have to have serious conversations in a foreign language. Afterwards, real life starts:
 Meeting face to face with all the professors and students.

Going to the hospital due to a common flu (due to climate changes)

Opening an account at the regional bank

Interacting with the police do to some negligent bike accident

Learning "how to" file a complaint against the lousy neighbor

Applying for a state driver's license
Cultural Differences
Wherever you go you will face a cultural shock. The food, the way they dress and their behavior in the streets changes without even going deeper to the roots of the traditions and customs. Apart from it being very interesting to experience sometimes it is quite challenging to comprehend. Remember you are no guest, so you will be treated with zero tolerance.
If you can't speak the native language you might as well be damn fluent in English; even then there is a chance you'll be ignored.
While at some festive ceremony you will have to learn to behave otherwise no party for you, my friend.
Every nation treats rejection differently, so you'll have to be careful when turning down a request.
Living with roommates can be fun, as long as you respect some boundaries and make compromises. Out here everyone is "special" in some way. If there is a no long shower policy, you better respect that.
Formal dinners are always challenging, especially if you will be dining around complete strangers living under some strange manners (to you). Don't be ashamed to ask first before you make a move.
Language
Language is one hell of a barrier if you are living in a foreign country. I strongly suggest you get started on some intensive language course, if the University won't provide any.
Academic Difficulties
Universities follow diverse curricula within a city; imagine how different things are when you are studying in a different country.
The lectures can be way more interactive from what you expected; the stress of having to respond to a professor's question in the native language might blur your opinions and leave you empty handed. On the other hand there is always the risk of not understanding a word your professor is saying.
Figuring out the way your homework shall be done is rather easy, you just ask your fellow colleagues. Yet, what if their answer is just a prank?
University calls for some serious readings, some of which you won't be able to understand even in your mother language.
The way exams are shaped is one of the major differences between Universities. You can spend all that time focusing on the wrong questions, while the things you should've learned are right there in front of you.
Talking in front of the class takes courage. May courage be with you?
While some professors appreciate questions after the class is over, some might be annoyed by such an initiative. Watch and learn, let someone else make the mistakes for you.
Emotional Burden
Your emotional well being will go through different phases during your stay in the foreign country. No matter how hard it will be to separate from your loved ones, in the beginning you will be overwhelmed by the euphoria of the huge change. Eager to capture everything at once, the first few days will be relentless, like some curious tourist trying to know everything about the city and its people.
With days passing, you will start feeling homesick and spend days online talking to your friends and family, ignoring the life that is actually waiting for you outside those doors. Depression might overwhelm you, if you aren't strong enough; you will consequently pack your bags and go back to your comfort zone. If not, you will continue the journey.
Once you are over with crying and whining, you will pull yourself together and go out there to make friends. Friends will bring other friends along and so you will again feel the sense of belonging.
Work Load vs. Time Lapse
Meanwhile back at home, all you cared about was maintaining a balance between your heart, brains and your body; now you will have to take care of everything on its right time.
Household duties for once will always be waiting for you to come home; not something you look forward to.
Eating and sleeping right is a major challenge, they somehow tend to disappear of your busy schedule.
Punctuality won't be one of your major strong spots in the beginning yet you will adjust with time, eventually.
If you don't start prioritizing soon enough, you will get caught in a complete chaos. Trust me; losing your job is something you don't want to experience when you are thousands of km away from home.
Finances
Managing your funds is a side project that will require your full attention. If you are not careful enough with your monthly expenditure you will regret the day you were born. As I mentioned earlier, as an expat you will be treated with zero tolerance.
 Hunt for a scholarship or financial aid to alleviate your tuition fees.

Get a part-time job that won't impede your normal University routine.

Pay your bills regularly, all of them.

Cook your meals instead of eating outside in expensive restaurants; money goes, and it goes fast.

Use public transportation instead of taxis, or get a bike.

Put money on the side for "emergencies".

Careful when purchasing health insurance, get the package that is affordable and covers all the necessary services.

Try not to break any laws, otherwise you will be broke in no time.
Family Planning
Romance at the University cannot be underestimated; without the proper protection a child might come along. As most of us aren't really fans of abortion, a child in such inappropriate timing might cost someone his/her career, no matter if it is the mother or the father that we are talking about.
This shall not be the case nowadays, since there are several organisms ready to support parent students in any way possible, encouraging them to continue their studies.
Scholarships and financial aids are granted to parent students all the time, if money is the reason that makes them quit. I stumbled upon Mawista scholarship exclusively granted for students parents, but I bet there are more of these out there. There are also several success stories that will eagerly share their experience and their challenges with all the students who still feel doubt and guilt when trying to decide on such an important matter in ones lives.
Raising a child in a foreign country while you are studying to get a degree that will establish your position in such a globalized job market is no joke, yet since others have succeeded, so can you.
Tags: Academic Difficulties, Bureaucratic Procedures, Challenges Students Face When Studying Abroad, cultural differences, Emotional Burden, Family Planning, Finances, language, Work Load vs. Time Lapse