The Last Days of European Prosperity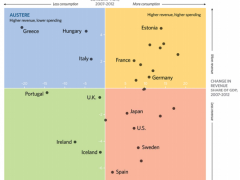 There is a striking contrast between the breadth and scope of austerity measures in Europe and citizens' perceptions of them. I recently moderated a debate organized by the Bertelsmann Foundation on what Europe can learn from Latin America in terms of managing a debt crisis. The audience was composed mostly of German economists, several of whom argued that austerity in Europe has actually not gone far enough (at least compared to the sweeping cuts Latin America undertook in the 80s). Coming from a country where public wages were cut by a dramatic 25%, which eventually led to street protests and the ousting of the government, I was immediately tempted to demonize them as the Teutonic Villain Knights of fiscal austerity. However, on a closer look it does indeed seem that most governments have increased spending since 2007, and that less than a handful of them have truly embarked on the path of austerity, namely Greece, Hungary and Italy. If you ran a Europe-wide opinion poll however, I'd bet the majority of people would complain bitterly about how austerity has affected them.
From a bird's eye view it would seem that fiscal tightening has led to some macroeconomic stabilization (aggregate eurozone deficit fell to 3.7% of gross domestic product last year from more than 6% in 2010), but debt levels have continued to rise in 17 Member States, including the likes of Italy, Spain and Portugal. Nonetheless, a return to growth is still far from sight. As a matter of fact, two years after the enactment of austerity measures, the eurozone as a whole contracted for the first time in 2012, by a little more than 1%. Even Germany's proverbial growth has become minuscule – just 0.1% in the first three months of 2013.
Recognition that austerity should not be an end in itself is spreading. And that is good news. Statements in this direction by European Commission President José Manuel Barroso truly made the headlines: "While I think this policy is fundamentally right, I think it has reached its limits," Mr. Barroso said. "A policy to be successful not only has to be properly designed, it has to have the minimum of political and social support." IMF Managing Director Christine Lagarde herself seems to be calling for growth instead of austerity policies. Obviously, no U-turn is possible unless Europe's primary lender says "I do". Yet as an attentive outsider observer of economic discourse in Germany's capital, I'm more hopeful than ever that after elections this fall, a wind of change will start to blow from Berlin as well.
However, as I've explained at length in an earlier piece, the big puzzle remains unsolved: how to find (new) sources of growth in Europe in general, and especially in Europe's periphery?
Perhaps we should really get used to the idea that "less is more" and find ways to pursue meaningful lives under these conditions. Economic historians will tell you that economic growth has not been widespread since the dawn of humanity. On the contrary, it only became the norm several decades after the industrial revolution. There are commentators resigning to the fact that most likely Europe won't rule the world again, but will still enjoy a high life-expectancy, corruption-free governance, more equality than the rest of the world, and so on and forth. A whole school of thought is trying to replace GDP with better indicators to measure development, such as happiness.
In this landscape, Eastern Europeans are probably the saddest group. They joined the EU when it had economic growth close to 5% year by year, hoping that their countries' living standards would be raised to the level of those in Western Europe, and that the golden age of the welfare state would spread to the continent's East. Yet with sluggish recovery in the eurozone and few fundamentals for growth in Europe's periphery, their expectations are farther and farther away from reality…
Tags: austerity, Central and Eastern Europe, economic crisis, eurozone, globalization, growth, leadership, romania, sources of growth