The Global Need for Women-Friendly Internet Laws – IGF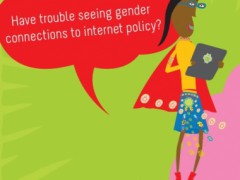 As part of the Freedom House's delegation of civil society leaders and online activists from around the world, I was thrilled to be in Bali for the 8th Internet Governance Forum (IGF) held from October 22 to 25. The United Nations-funded annual forum is held in different global locations every year, each with a specific theme. This year's main theme was "Building Bridges – Enhancing Multi-Stakeholder Cooperation for Growth and Sustainable Development" with a focus on internet governance principles, digital security, freedom of expression, and diversity.
The aftermath of Edward Snowden's leaks brought some crucial attention to privacy versus national security and the emerging control of the internet globally. As President Obama infamously commented some months ago on the necessity of compromise, "You can't have 100% security and then also have 100% privacy and zero inconvenience. You know, we're going to have to make some choices as a society."
As a leading internet-focused forum inviting some 1500 delegates annually from governments, the tech sector, civil society, academia, and international organizations, IGF shapes the future of the internet regardless of its lack of decision-making power. Amidst the growing concerns about governments spying on every single citizen, I was looking forward to learning from the activists about Information Communication Technologies (ICTs) and women-focused internet-related laws.
On October 25, a roundtable discussion entitled "Gender and Internet Governance" was held, focusing on the role of ICTs for women and women's economic growth and empowerment using the internet. As part of the panel, I felt a growing concern among the women's rights activists, including myself, that simply providing access to the internet is not enough of a step towards empowering women.
As Nnenna Nwakanma, African regional coordinator of the World Wide Web Foundation, aptly observed, "It's one thing to be able to use the web; it's another thing to train girls to use it. What motivation do countries and experts give for women learning the web, for female government employees?". She asked further, "To what extent is the internet used to promote health rights and services in the main local languages, for example. How is the internet used to give messages to people who need information on reproductive health in local languages? When we talk about women and gender, it's not just the women here but also down at ground zero."
Access to the web in the absence of any privacy laws is turning out to be quite precarious for ordinary citizens, especially for women. Do we have enough laws to protect against online intruders? In a recent case, fifteen-year-old Noor Basra and her sister Noor Sheza, sixteen, were shot dead along with their mother in Pakistan after a video went viral on the internet. The teenage girls were shown dancing in the rain wearing traditional clothes and headscarves. The three women were killed to save the honor of the family as dancing is a strict violation of Shariah law.
And this is not the first case of an honor killing in the country based on internet content. Only a year ago, four women were ordered to shot dead by Jirga after a video showed up of them singing and clapping.
Such cases are not restricted to Pakistan. Abuse of the internet and a lack of applicable laws have been causing some major legal problems globally. Indian activist Shehla Rashid Shora shared her comments: "Like on the street, you don't have to do anything online to be harassed online, you just have to be a woman. In some cases, women get attacked because they expressed a political opinion or because they come from the so-called lower caste, but we also found that some were harassed simply because they were women."
While the internet was once considered a rather safe place for women to express their opinions, socialize, and learn about new perspectives without being harassed, it is increasingly proving to be an added vulnerability. It is now risky for women to share their views online.
As the IGF ended in October, I realized that we need to focus more on policymaking in the area of gender rights. It is important to acknowledge the harassment women face online, be it demeaning content, stalking, or sexual harassment, before lobbying for internet laws. Women bring important experiences online; it is crucial to support those voices to build a more gender-supportive global platform.