Mining Propaganda provokes the People of Mongolia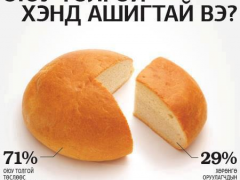 This poster by Oyu Tolgoi mining (OT) – a copper and gold mining company in Mongolia – shows the share of Rio Tinto (29%)  in the form of a loaf of bread. Rio Tinto and the government of Mongolia  are co-owners of the OT mining company. But in reality Rio Tinto actually has 70%  share  which was officially signed into the Oyu Tolgoi Investment Agreement  made in 2009 between the Mongolian government and OT.
Today the argument is about how this loaf should be  shared out. People want an equal share, but the Agreement with the government says they will get only 34 percent.  No wonder there is disagreement!
The Agreement states that the company will acquire a 66%  stake over the  30-40 year operation period. Oyu Tolgoi (OT) is the world's second largest copper mining company after the CODELCO copper mining corporation in Chile.
Since 2009 people have been demanding that the government reconsider the Agreement and hold open and transparent discussions.  But both the government and OT  have turned a deaf ear to their demands!
And now this advertisement poster which supposedly depicts an exchange of views has given rise to social agitation and sensitized people about mining operations. It is  also leading to conflict in the community where people say that the mining company has started a propaganda campaign with brain washing adverts (similar to the one shown above)  saying, "people get 71% of the profits" which is a blatant lie.
Why has Rio Tinto started this misleading propaganda campaign? Well, over the last three years, Rio Tinto has had to do something to counteract moves by civil society organizations protesting the widespread total destruction of land caused by mining operations, which have made the Agreement a big tallking point for media and the general public. Hence, this wave of  propaganda in an attempt to  persuade people to believe in what is not true.
The poster is not only provoking, it also carries the implication that spending lots of money can shut the people up!
Mr. S. Ganbaatar, a member of Parliament and one of the leading political figures on the people's' side, has criticized the agreement and fought the big mining company and the Mining Association of Mongolia which is financially backed by Rio Tinto. He claimed in  the court of Sukhbaatar district that OT put out misleading information. Refering to the poster he made the point, "If you (OT) really want to give it to us in that way, please put it in writing and put it into the official agreement, then I will stop arguing with you…'". The war of words continues! The argument  put forward by people like Ganbaatar is  that the  Great Gobi Desert's vulnerable soil is being destroyed and is gradually losing its fertility because of  the operations of big mining companies like Oyutolgoi and Tavantolgoi.
Conflicts over limited water resources and herding lifestyle are forcing herders off the land where their ancestors have lived for hundreds of years.  Communities are under threat, resulting in widespread insecurity and fears about the future. Even though water is a very rare and valuable resource in the parched Gobi desert, OT will use an astonishing 870 liters water per second from underground wells over its planned 40 year operation in the Gobi.
The recently discovered facts about differences in  salary between Mongolian and foreign workers were another unexpected surprise for the media. While Mongolian officers' salaries are no more than 1500$ per month, the lowest monthly rates for foreign officers start at 30,000$ – 120000 $ . In other words Mongolian specialists earn 3.3 times less than foreign café workers. Usually OT selected specialized workers,  who are educated  in America and Australia or other developed countries,  still earn much less than café assistants who are foreigners.
It's  very evidently true that the mining business has led to a  spider's web of corruption in Mongolia. All  the wealth of country belongs to 2-3 % of the population. The 2010 Corruption Index ranked Mongolia 116th out of 178 countries.
Only a few cases of corruption in mining in Mongolia have come to the fore. Lawyer Sarah Armstrong  who is working in the country for a company (SouthGobi Resources) controlled by Rio Tinto, was detained at the airport in Ulaanbaatar. Rio Tinto is embroiled in another potential Asian corruption scandal with resource-rich Mongolia. SouthGobi Resources  is being investigated for tax avoidance to the tune of 150 billion tugrik ($104 million), and for corruption in the awarding of licences.
Ordinary people have the right to demand transparency.Today, there is a fight on between citizens and huge mining companies. But this combat is not between equal forces. On one hand, the world's biggest transnational mining company is spending huge amounts of money for brain washing propaganda, while on the other, ordinary people -whose only weapon is words! -are fighting against bribery of public officials, and demanding transparency in national mining revenues. They are trying to make the truth known, raise awareness, and uncover corruption in an effort to save their native land!
Tags: brain washing propaganda, demanding transparency, mining business and corruption in Mongolia