Far Right Rising Ahead of European Elections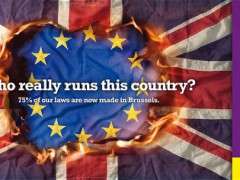 In less than a week, EU member countries will be voting in the May 22 European elections.
The nationalist parties of EU member states are all gaining a huge momentum. Ironically these right wing parties are uniting together to break away from the European Union. Due to years of austerity these parties have gained more and more popularity and the UK independent party (UKIP) is a prime example of this newfound prevalence.
The cigarette smoking, beer drinking leader of UKIP, Nigel Farage seems to be enjoying his newly found acclaim. Even after recent racist and misogynistic tweets from some party members, UKIP keeps faring well in the polls. In April of this year Farage was accused by the Sunday Times of misusing £60.000 of EU expenses for UKIP campaigning expanses (a violation of EU law). Yet Farage refused to allow independent auditors to examine his use of the funds. Later he admitted errors were made but refused a spending review.
Like Teflon, nothing seems to stick to UKIP or Farage. The irony is that UKIP uses EU funds to campaign against the EU.
As much as UKIP members of the European parliament (MEP) hate the EU, they love the money. The average salary for a Member of the European Parliament (MEP) is £83.000 as well as £3.850 monthly expenses. On top of that, Farage is in line for a second pension of around £41.000 a year. Not a bad gig if you can get it. Yet Farage and another UKIP MEP Paul Nuttall have been accused of being two of the laziest MEP for hardly attending EU sessions. Still UKIP popularity keeps getting stronger. Only a few days ago on May 6 UKIP tweeted:
"UKIP is delighted to announce today that party membership has topped 37,000 for the first time."
UKIP's manifesto details what they would like to see Britain look like if they were in power. For one, a military budget that would make even the U.S. envious. For the environment they would promote more coal burning and end wind farms. On immigration, a five year freeze and end active promotion of multiculturalism. 
It's very easy for UKIP to criticize the status quo when they are not in power and therefore have no responsibility, but if they were given the power, what would they do with it?
There are two options – they could deliver on their promises and what will follow are dire consequences for the United Kingdom; or they could change their views and begin to sing another song and conform to the status quo. To be safe the latter would probably be their choice, yet that would show them to be not that different from the other political parties.
Moreover, these nationalist parties are backed by an unlikely bedfellow in Vladimir Putin who sees a way to influence the European Union parliament with the help of his newfound friends.
Many of Europe's populists and radicals admire Putin. They share Putin's hatred for an order dominated by the U.S. and the EU. They idolize Putin's cunning political style when dealing with the west. The European nationalist parties are perfect for Putin to channel his political influence in the EU.
Critics of these far right parties speculate that Putin is paying them huge sums for their continuous support, but these speculations have yet to be proven.