Russia: The Sochi Olympics and a Storm of Swords over Homophobia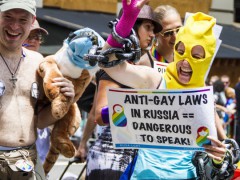 On February 8, Russia will welcome international athletes to one of the most extravagant events in Russian history– the 2014 Sochi Olympics. Many foreigners imagine Russia as a country of relentless winters, with snowy mountain peaks and lowlands covered with ice, deserted because of low temperatures. Holding the Winter Olympics in Russia sounds more than logical.
Various scandals have surrounded the controversial Winter Games. Let's forget for a moment that this will be one of the most expensive Olympics of all time. And we can only estimate how much money has vanished on kickbacks.
Just like shiny medals and the uniform of the Russian team, corruption and widespread homophobia have turned into official symbols of the Olympics.
Spears and swords have been broken on the warfront in the fight against homophobia in the country so notorious for its anti-gay sentiment. It's no secret that Putin's Russia is not the biggest supporter of Western-style liberalism, human rights, and political correctness. Now that debates appear to be calming down, it's high time we start to talk about Western-style activism and the actual situation with gay rights in Russia and its relation to the Olympics.
A one-sided story
Last summer, when the law against 'homosexual propaganda' was passed in Russia, many people in the West started expressing their aversion to the political regime in the country. Stephen Fry, a famous British comedian and gay activist, ignited the debate by writing an open letter to the British Prime Minister with a suggestion to boycott the Olympics in Russia.
All hell broke loose after his letter. Gay bars in America started boycotting Russian vodka in solidarity with gay people who have to survive under the oppressive regime of Mr. Putin. In an attempt to keep face, the company behind Stolichnaya Premium Vodka issued a statement saying that the brand "stands strong and proud with the global LGBT community." Here's the funny part– the original Stolichnaya vodka can be bought only in Russia. Stolichnaya Premium Vodka, on the other hand, is produced and bottled in Latvia, and can be found outside of Russia. So, who got punished in the end?
Wait a second, did anybody ask the Russian LGBT community about their opinion on the matter? Or did everyone just assume they would support the boycott? As you can see by now, not so many athletes or politicians decided to boycott the Games after all. So what was it all about?
One man's meat is another man's poison
I remember watching a brilliant TEDx talk by Ernesto Sirolli called "Wanna help? Shut up and listen!" Ernesto explains a simple truth that any NGO or activist should follow. Often times, people who need help know exactly what they need, whereas people who are trying to help have no idea what they're actually doing. Having a predisposed notion of what's right and what's wrong, Western activists tend to cause more harm than good.
First things first, I don't know about you, but I haven't heard about a single case against a gay person in Russia who was arrested for being gay. Nobody has ever been charged for being gay, and there is no such thing as a 'gay refugee from Russia'. These things are exaggerated by the media. If you don't believe me, try googling something like "gay arrested in Russia" and see it for yourself.
It is worth mentioning that you can get arrested if you participate in a protest supporting gays, but no one can arrest you for being gay. Even if you get detained, you will be released within a couple of hours.
One of my close friends from Russia tried to reason with the foreign LGBT community on various forums. My friend is notorious for his criticism of Putin's Russia and the country's corruption. He points out the following: "My comments are being deleted right now by 4 LGBT online media in the US and the UK. The replies that I leave were related to disinformation in the media regarding what is happening to the LGBT people in Russia. […] I was trying to correct some of the activists regarding their views of what is really happening and the ways their solidarity could be expressed; I am being deleted or informed by the admins that I violate the rules of the group. Moreover, I have been insulted as "Putin's slut" and "Russian puppet" for the last two-three weeks by private email or publicly on these forums."
Nikolay Alekseev, a prominent gay activist from Russia, tried to reason with the Western LGBT community. As a result he was labeled as 'Kremlin's New Pocket Gay' by Michael Lucas, a gay porn star of Russian origin who left Russia in the 90s. The heated discussion ended up with Alekseev leaving the Russian LGBT movement.
Right before the Olympics, the Russian parliament reacted to Western hysteria by suggesting an amendment to the existing law that would ban 'any sex propaganda' altogether. Are you guys happy now? Isn't that what you wanted? Next time you wish to make a political statement about the escalated conflict between Israel and Palestine or corrupt media in Italy, you should stop eating hummus, falafel, pasta, and pizza altogether. That'll do the trick.
Protesting for the sake of protesting doesn't lead you anywhere.