The Spanish Crisis: the Ecuadorians who stay and those who don't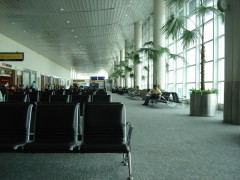 Memory is selective, but firm in many ways. The image comes from television: families weeping in the doorways of international lounges because a son, daughter, mother, father or husband and wife had to leave and find a real income in Europe, mainly in Spain and Italy. The relatives wouldn't see each other in years, families would be separated because Ecuador was destroyed. This was the late nineties and early 2000, a time when most banks had collapsed and the local crisis had led to thousands of people losing all their savings when people with no money had to migrate.
For the record: people died then, specially those who saw their money disappear and could not resist the impact on their hearts.
Twelve years later, the remittances sent by migrants were defined as the second major source of income to the country after oil. It was pointed out that in 2003 Ecuador received almost 1,650 million dollars from its migrants. And this figure rose in the following years. According to a report by the International Organization for Migration last September, in 2007 Ecuadorians sent back home 3,100 million dollars, while in 2011 this figure fell to 2,700 million.
The Central Bank of Ecuador announced in November that 1,220 million dollars came into Ecuador in the first six months of 2012. It is also documented that between April and June the money received was 10% down on what came in last year in the same period. The figures are falling as people return.
We know that the one million people who left Ecuador after the banking crisis has by now increased to almost three million people living and working overseas. More people leave and more people – especially those in Spain – are affected by the banking and property crisis. Spanish sources show that roughly 480,000 Ecuadorians are living in Spain. Ecuadorians are mainly returning from Spain because they have lost their work and cannot afford their mortgage payments any longer. They can no longer  afford to send money to their families back home and see no future for themselves in the country.
Since 2011, the number of Ecuadorians returning to the country has increased. By last May, they numbered 11,000. These are the people who used to be able to save, eat out, visit their family for New Year festivities and vacation in dream-like holiday destinations … and now they have lost it all. "I never imagined it would come to Spain. We never planned to return to live in Ecuador because we liked the quality of life here, it was good," Yadi Cazco told Roxana Romero, correspondent of the El Comercio newspaper, almost eight months ago when she was planning for her and her family to return to Ecuador.
Like many other Ecuadorians, she filed for the Return Plan of the National Secretariat for Migrants (or SENAMI in Spanish), that assisted the return of many providing people with the facilities to bring their personal belongings and lives back to Ecuador. But the picture is not simple. Indeed, by mid-year, the service reached saturation point in Spain:  the SENAMI program had financed the return of 52 people so destitute they had to depend on charity, but had received requests  – including requests for the Cucayo plan which delivers loans to start businesses in Ecuador – from a further 4,316 people.
A few weeks ago, at a seminar on the mortgage crisis, Foreign Minister Ricardo Patino said that Ecuador has given legal advice to over 5,000 Ecuadorians in the four major cities of Spain. And he was clear in his speech: "The evictions have become the 'more dramatic' face and this has caused the displacement of 400,000 families, including 4 percent of Ecuadorian migrants".
What could be the outcome with Spain on the brink of collapse and Ecuadorians having a bad time there? The most likely resolution is that they return, although many people keep on betting on life in Europe and are trying to find another country to get a job and continue to pay bills. However, 70% of Ecuadorians living in Spain have a strong desire to return to Ecuador and so far we know that each migrant who has returned and set up some kind of business is giving work to 3,5 people. So stay or go? A crisis is usually a time of opportunity and now maybe it is time to take opportunities again. Ecuadorians know how to do it. We have survived before.
Tags: crisis, Ecuador, migration, remittances, Spanish crisis