Uganda: Enacting the Anti-Gay Law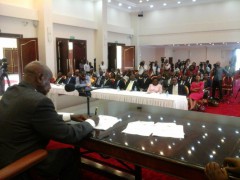 On February 24, Uganda's President Yoweri Museveni signed a law that criminalizes homosexuality. Among other things, the law criminalizes sexual intercourse between same-sex partners, and a life imprisonment for anyone convicted of homosexuality.
Under this law, failing or refusing to report acts of homosexuality in your house and neighbourhood is a punishable offence. Human rights activists have condemned the law as being "too harsh and inhumane" to the gay community.
Voices of reason from all corners of the world arguing against this legislation have been ignored. Members of the international community especially from the West argued the law spells doom for the already heavily discriminated against gay community in Uganda. Recently, US President Barack Obama said if Uganda's president accepts this law it would mean retrogress in the country's commitment to respect human rights and it would complicate the relationship the two nations have enjoyed over the years.
Not long ago, Nigeria enacted almost a similar law targeting gay people in that country. While Nigeria's President Goodluck Jonathan signed the anti-gay law secretly, Uganda's President did the signing before cameras and told the West to avoid meddling in the internal affairs of other countries.
According to Museveni homosexuality is a nurtured behaviour. This is the notion many Ugandans have about gay people. To justify his action Museveni quoted some unidentified study which he said has shown homosexuality isn't purely by nature. "A study done in Sweden showed that 34% were homosexuals as a result of nurture not nature" President Museveni said.
While signing the law Museveni said: "I could not understand why a man can't be attracted to a beautiful woman and instead get attracted to a fellow man." The mindset in Uganda and across many African countries is that homosexuality is a cultural affair and not sexual orientation. This attitude partly explains the intolerant and homophobic response to anyone who tries to argue that legislating against people who are gay is some form of discrimination.
Since 2009, Ugandans and sections of the international community have been engaged in heated debates on criminalizing homosexuality and their activities in the East African country. At the heart of the debate is whether being gay is biological and whether people who are gay should have rights like any other individuals. Generally speaking many Ugandans are homophobic. They will not hear out anyone who argues gays have rights. Anyone who attempts to argue for gay rights is branded a gay even when they are straight people.
To many Ugandans it is unimaginable that the gay issue should be treated as a human rights issue. On the other hand human rights activists have argued people who are gay deserve to be accepted in society just like any other person.
David Bahati, the legislator who penned down the text of the Anti-Gay Bill as it has been baptised, says the purpose of the law is to protect Uganda's cultural and family values. He argues that homosexuality is not a Ugandan thing. Yet, there are some Ugandans who say they are gay.
Even without this specific law against gays, Uganda's penal code criminalizes sex between members of the same sex, calling it an "unnatural behaviour".  The British colonialists in 1950s had already outlawed homosexuality in Uganda. So, enacting an anti-gay law does not rank top on the badly social services by ordinary Ugandans who continue to die of curable diseases, drive on bad roads, whose children study under trees for lack of classrooms and wallow in abject poverty.
Tags: discrimination, homophobia, homosexuality, LGBT, Museveni, tolerance, Uganda