What Malala's Nobel Peace Prize Means for Pakistan and the World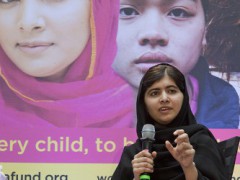 Malala Yousufzai first gained recognition in 2008 at age 11 when she took to the Press Club in Peshawar against the Taliban banning girls' education in the Swat valley. She soon started writing an anonymous blog for the BBC as Gul Makai, chronicling the feelings of a young girl being denied the right to education by militants that had taken over her hometown and its surroundings. Her father, a private school owner in Mingora, Swat, has played a major role in ensuring that his daughter gets equal opportunity despite coming from a conservative society where women almost never get equal rights.
In December 2011, Malala was awarded the National Youth Peace Prize by the Prime Minister of Pakistan in recognition of her campaign for girls' education. In October 2012, Malala miraculously survived an assassination attempt by the Taliban. She relocated to the United Kingdom for medical treatment, and attends school there due to security threats in Pakistan.
She has since campaigned heavily for education, including a highly acclaimed speech at the United Nations in July 2013 on her sixteenth birthday, and set up the Malala Fund for education, of which $7 million have so far been donated for education projects in remote areas of Pakistan. She has also confronted U.S. President Barack Obama on drone strikes, telling him they fuel terrorism and kill innocent civilians.
The efforts of Malala Yousufzai make her worthy of the Nobel Peace Prize beyond doubt, especially considering the threats from non-state actors to peace around the world, and how Malala as a teenager stood up for rights of the girl child for education.
This award highlights several issues relevant to Pakistan and the rest of the world that need to be addressed on priority.
First, Pakistan ranks second amongst countries with the highest number of out of school children, despite primary education having become a fundamental right under the Pakistani Constitution in 2008 – the same year Malala began her activism against the Taliban's edict banning girls education in Swat. According to UNDP Pakistan, more than a quarter of children enrolled in primary schools do not complete their education, and the literacy rate stands at 58% as opposed to the Millennium Development Goals 2015 target of 88%, with major urban-rural and gender disparities within this figure. The Nobel Prize is a reminder for governments around the world, including in Pakistan, to focus on expanding access to quality education, which can also help in maintaining peace.
Second, this prize comes at a time when terrorist organisations around the world threaten girls from getting an education – from the Taliban in Pakistan and Afghanistan, to Boko Haram in Nigeria. In Pakistan, Taliban had destroyed more than 400 schools; in Nigeria, more than 200 girls still remain missing after Boko Haram militants kidnapped them from their school in April 2014. As a campaigner, Malala convinced President of Nigeria Goodluck Jonathan to meet with parents of the released abducted girls and increase efforts to locate the missing girls. Recognising a young girl's campaign for peace and education sends a loud and clear message to non-state actors that desire for women to be oppressed rather than empowered through education.
Third, at seventeen, Malala became the youngest recipient of the Nobel Peace Prize, against the average age of 62 for recipients in the past. She has met with world leaders as part of her campaign for education. This gives hope and inspiration to the youth around the world to stand up and fight for what they believe in, and be involved in policy decisions in their own communities in order to be able to shape their future.
Fourth, Malala represents a large segment of Pashtun and Pakistani society that has otherwise been associated with militancy and violence in the news. Malala is the face of the people that want peace, epitomised by her forgiving the Taliban that shot her and promotion of peace dialogue with the group. The Nobel Peace Prize for Malala brings this large majority of peace-loving people under international spotlight and recognition.
Fifth, it is time for the international community to revise international development goals and set up a post-2015 development agenda as the Millennium Development Goals deadline mounts next year. In this light, universal access to education (goal 2) and empowerment of women (goal 3) need focus, pushed forward by a global partnership for development (goal 5). Malala's award recognises the importance of such campaigning and is a timely reminder for the international leadership to set realistic goals for the future.
Last, Malala shares the Nobel Peace Prize with Kaylash Satyarthi from India. This comes at a time where relations between nuclear armed neighbours India and Pakistan are shaky, with skirmishes on the border a regular feature in the news. It s high time India and Pakistan resolve their issues peacefully and focus on important issues facing the countries such as education, children's rights, and development.
Malala has made millions of Pushtuns and Pakistanis proud by winning the Nobel Peace Prize, and inspired people across the world. Now we must work together to set what this award symbolises into action to promote education, children's rights, and peace across the world.
Tags: education, malala, MDG, Nobel Peace, pakistan, Peshawar, Swat, women's rights