Wild Things: Amateurs and Wild Cards at the Olympics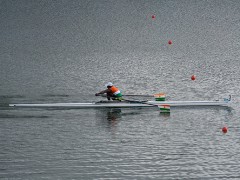 The mirage of unexpected excellence is something that has been animating the Olympic Games ever since their inception in the 1890s. As the chances of an amateur surpassing the reliable performance of a professionally groomed athlete grow slimmer and slimmer, this mirage becomes more potent than ever. But is this ideal fair game? What are the subtle workings of amateurism in a competition where professionals dominate and the gold rush often obscures second-tier contestants? Is the prospect of a wild card a boon for athletes with little training? Or is it instead a sharp reminder of financial inequality? Is it an inspiring everyman story or does it just provide some much-needed comic relief from the tense atmosphere of the medal munch?
The Olympic Games were conceived as a blend of the Ancient Greek Olympic tradition of organizing various physical activities as a complement to philosophical musing and the English public school ethos which encouraged gentlemen to broadly pursue sporting activities as amateurs. Because professionals purportedly have the advantage of superior training and years of experience, they were originally excluded from the competition. A never-ending controversy around the issue of amateurism and professionalism has been played out heatedly ever since 1952 when the USSR and other countries of the Eastern Bloc returned to the Olympics boasting a well-oiled state-funded sports machine which literally swept the medal tables clean. In contrast to the self-funded, often part-time trained athletes from Western countries, the Eastern Bloc produced a bunch of fantastic young specimens who so challenged the definition of amateurism that they earned the nickname of "shamateurs". Nevertheless, in 1986, the definition of an Olympian was extended to include "any excellent male or female athlete". Moreover, strict qualification heats were introduced. The Olympic Games slowly turned into a showcase of corporate prowess and the monetary stakes grew higher. This has, to some extent, deepened the divide between countries who have the financial capability of investing extensively in sporting endeavours and those who are merely starting to build the necessary infrastructure and recruit excellent young athletes.
Nowadays, a system of wild cards is in place aiming to level the playing field between state or privately funded athletes from "first" and "second" world countries and young sportspersons from developing countries. This measure is meant to guarantee equal chances for representation to all participating nations. Countries that cannot contribute an Olympic caliber athlete in a certain sport can appeal to National Olympic Commissions (NOCs) to request a wild card[1] which allows them to enter a contestant whose performance record is below the qualifying average. The requests are generally granted and consistently produce a large percentage of the also-rans in any Olympic event.  Most of the recipients are from developing countries where neither equipment nor training expertise is available. To date, only one wild card holder has been awarded a medal: the North Korean Kye Sun Hui who won gold in judo at the Atlanta games in 1996.
Yet, the Olympics are fascinated by flukes and surprise excellence. Being Romanian myself, the example of Ivan Patzaichin springs to mind: this very young fisherman from Mila 23 in the Danube delta was recommended by a group of canoeing friends to the coach of the  Bucharest-based rowing team a year before the 1968 Olympics. Patzaichin trained for just three months at the club, yet he qualified for the Olympics and won four gold medals for sprint canoeing. He went on to win several other titles in the following years and later successfully coached Romania's Olympic rowing teams.
The wild cards were intended to cultivate such unexpected events, but they mostly fail in this respect. In most sports, rudimentary conditions and a dash of Olympic spirit cannot replace the years of blood, sweat and tears today's athletes submit to. This is why true surprises often occur in fighting sports (wrestling or boxing) or track and field where intricate equipment is not at such a premium. Patzaichin's counterpart in this year's Olympics is the Nigerian rower Hamadou Djibo Issaka ("Issaka the Otter"). The two share a biographical detail – the Nigerian also went straight from the fishing boat to the Olympics. Yet whereas Patzaichin made the qualification standard in 1968, Issaka is a wild card contestant and full-time gardener from Niamey who was invited to train in Tunisia. Here he practiced for three months in an old fishing boat in the run up to the Olympics. In terms of excellence, however, the two couldn't be more different: Issaka received a standing ovation from the Olympic crowd as the anti-hero, the everyman, rather than the prince of his sport. He consistently finished last in the events he took part in, clocking in at over a minute and a half more than the penultimate rower in his round of men's single sculls. The Otter is proud of his "Olympic Spirit" and thankful for the generosity of the British public, but one cannot quite rid oneself of the uneasy feeling that a "noble savage" ethos pervades our image of him given the angle of his profiles and interviews.
With such rampant training inequality one wonders whether instead of representing the fair play spirit and egalitarian participation, the wild cards aren't cheered on for being regular Joes (or even for providing comic relief). Ironically, the wild cards are indeed more representative of the original amateur Olympic spirit than the professionally-backed athletes. In a recent Time magazine profile[2], Sadaf Rahimi, the first Afghani female boxer to take part in the Olympics on a wild card, declares that she isn't shooting to win, but merely to stand her ground in the ring and not get shamefully knocked out.
Wild card sportspersons are strange animals. They are not in it for the medals, but for the glory of participating in such an elite sporting event. They become famous for their undaunted pluck rather than their sustained mastery, much like the armchair sporting gentlemen participating in the first 1896 games. In today's world however, the gentlemanly ideals fuelling the original international sporting event are more nostalgia than reality, as sport is now less of a pastime and more of a commodity. It would be foolish to bemoan such an evolution in our globalizing world, but it would be equally mistaken to be seduced by the mirage of the pauper turned prince, as this encourages inequality and fosters double standards. Can there be a better system to ensure equal chances for athletes from developing countries? More sustainable infrastructure? Better sports council funding? Scholarships? The wild card system, while entertaining and in theory egalitarian, seems downright lazy.
---
[1] Boxing and wrestling have sport-specific rules for wild cards and they require that only amateurs contend in the Olympic events for safety reasons – contestants must be over 17 and under 23. Football and tennis have their own system of wild cards – football allows three wildcard seniors (players over 23) per team, for instance.
[2] Aryn Baker "Woman Warrior" Time vol. 180 nr. 5 (2012). pp. 66-71.
Tags: amateurism in sports, fair play, Issaka the Otter, ivan patzaichin, london 2012, London Olympics, rowing, sports, wild cards