Will we ever be able to catch-up on Freedom of Expression?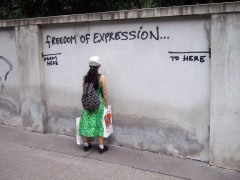 This article responds to the Secrets of Transformation multimedia series, a joint project of Bertelsmann Transformation Index and Deutsche Welle. 
Banning or blocking seems to be the easiest way of denying the existence of something; this is especially true if you're talking about countries like Pakistan. Sure, alcohol and pork are banned in the country – and we don't only prohibit things, we police to make sure it's stopped – but what I am talking about today is not of traditional censorship, but about censoring the freedom of expression especially in the digital era. You see, "Surf safely" is a warning message we in Pakistan see along with a reminder that the website we're trying to access is banned. Previously the message used to be just for hardcore anti-Islamic material on websites, then they came for porn and now virtually anything the authorities consider 'blasphemous' is banned for our own 'safety'. How thoughtful!
Pakistan is one of several Asian and Middle Eastern countries where the violation of freedom of expression is rife. It's been over 15 months now since YouTube was banned in the country as Pakistan joined a list that includes Iran and China. YouTube is just one example of a number of fronts where the war to curb freedom of expression is being waged with the stifling of minority voices and any narrative that runs counter to the dominant opinion.
The government and regulatory authorities in China, UAE and many other countries are fierce when it comes to censoring the voices they perceive as potential threats. The Bertelsmann Foundation's Project 'Transformation Index' (BTI) highlights some of the dynamics of curbing free speech in its reports on China, Iran, Egypt, Syria and the regional index of Middle East. The report about China points out that even though freedom of expression is technically guaranteed in the constitution, the flow of information is heavily regulated and controlled by the state. The report also quotes Reporters Without Borders' Freedom Index 2012 which ranked China 174th out of 178 countries.
Moving towards more troubled countries including those seen as being engaged in an on-going revolutionary process, Syria today is perhaps the most troubled of all countries in the Middle East and has, as can be expected, limited freedom of expression. Almost all of the media outlets are state owned and very little freedom is tolerated when it comes to criticizing the government and security agencies. Against all odds, however, the situation might be improving as the country has allowed a certain scope for debates in cyberspace, mainly by allowing access to major social networking platforms. Even so, Syrian cyberspace is still heavily policed.
As also indicated by BTI-Project's reports, Iran presents the worst possible picture when it comes to freedom of expression and activism. Iran's mainstream media is heavily state-influenced, which leaves little to no room for freedom. Then there is the hugely controversial internet censorship, notorious for its shut-down of blogs and other tools of activism.
Against such a grim background, I wonder how long it will take for these countries to catch-up and get on par with tolerant countries in terms of freedom of expression. Especially in today's modern world, social media tools are powerful instruments for raising voices against injustice, oppression and violence – the power that we all have seen firsthand during the Arab Spring.
Additionally, global connectivity, where local events often affect other parts of the world, has profound implications for freedom of expression. Thus we see policy based reactions from across the world when freedom of expression is curbed in one part of the world. The question we might ask is whether or not these reactions are enough? Or, whether or not they make any difference? The answer to this question isn't that difficult. We have seen that mere condemnation of violations of the right to freedom of expression is not enough, especially if we want a more tolerant and progressive world. It is hard to see precisely how, when, or if these countries will ever develop the freedom of expression standards of the developed world. There is certainly not one solution to all of these challenges. However, on-going advocacy, which is facilitated by an increasingly globalized world and social media, is a key aspect that may yield progress. There is much to be gained from collaboration between diplomats, international rights organizations, and stakeholders in the private sector—such as social start-ups, IT companies, and, free speech activists.
Tags: BTI: Freedom of expression, censorship, China, freedom of expression, internet, Iran, pakistan, press freedom, social media, youtube