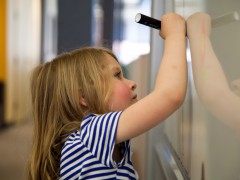 Writer Charles Bukowski didn't lose his virginity until he was 24. Troubled by a difficult home life and disfigured by extreme acne, the young Bukowski's love life was almost non-existent. All the girls dated the handsome and the rich. It was only in Bukowski's middle age that women started to prowl round him. And this happened due to his success as a writer.

There is something about successful men that gets us women all fired up. Often it doesn't have anything to do with financial success, though this aspect has its importance. But it does have a lot to do with the potential of a man to get his hands on power, and be brave and fearless in his struggle to win. We also transfer such qualities into the relationships such men have with women: if they like a woman, they don't stop until she's theirs. They want to possess, and we women, don't mind watching the battle as they try to get into our pants. We evaluate many aspects of a man while he courts us and the level of his determination – how many times he keeps sending flowers in the office before we answer back – is what  guarantees his success or failure.
There was a time when gender roles were very clear: men would go "hunt" while women would take care of the household. It was also their duty to keep the emotional environment all nice and warm, to be endlessly understanding of a man's needs, to be prettily dressed and charming, all sugar and spice, smiling and available. If she took proper care of these aspects, men would take proper care of her and the family's needs. And because we all know that money is power, the provider was always in the dominant position.
This set-up lasted until the day women started to work. Somehow it was the beginning of the end. Men were no longer interested in covering the living costs of those who don't put at least a minimum amount of effort into being a sex goddess. The more power women gained, the less sexy they appeared in a man's eyes. It could be the imagined threat of a man losing his dominant position that led to this. Or it could be that women simply lacked the time to focus on being as hot as they once were.
Initially, the 8th of March was celebrated as International Working Women's Day. But after the Socialist era, it has all turned into yet another celebration of love, and affection, flowers, and candy. Yes, women wanted financial independence, but they didn't expect to lose a man's sweetness because of it. They got to be equal to men from a social and economic point of view, but they were not prepared to give up on the Prince Charming story and all the perks that came with the illusion.

We often weep tears over a clichéd stereotyped view of women and men. But most times such views turn out to be true. Most of my male friends dream of vigorous bank accounts while most of my female friends wish to meet the One And Only Love Of Their Life as soon as possible. Surely they have other expectations from life, but when it comes to talking about them, this is pretty much what the situation looks like.
In the end, women might have made their point of independence. But whether we admit it or not, it's still the idea of a man that truly wants us which gets us fired up.
TO DO LIST: find Prince Charming and never let him go/ http://commons.wikimedia.org/

Tags: feminism, gender, gender roles, International Women's Day, women