World Cup 2014: The metaphysics of a non-event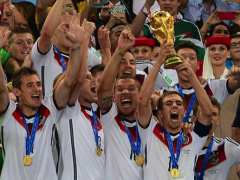 On Monday morning, fútbol fans of the world changed gears and went back to their normal routines, elated Germans in cities around the world reveled in the glory of a fourth World Cup title, and in the streets of Brazil, cleaning crews began to sweep up the remains of this incredible show.
We saw some amazing matches, some atrocious officiating, last minute goals, shocking early-round knockouts of superpowers, a few tussles, some spilled tears and blood, a world-class player with a bizarre biting fetish, and an astonishing defeat of the home team by a margin of six goals. Indeed, what a show.
But while we're glued to the tele, either at home or our pub of choice, getting intoxicated on the paroxysm of the event, there's a lot more going on behind the theatre of these games, and others like them.
From Sochi to Sao Paolo, events like the Olympics and the World Cup are symbols of something bigger and much more complex than simple games. Events of this magnitude represent an "exchangeable value on the universal market of ideology, of spectacle, of catastrophe," and everything from the politics behind the event, the policing of it, to its presentation and the system of information it represents, produces what Baudrillard calls a non-event.
By their own individual actions, media outlets, local authorities, policymakers, sponsors, and so on, while following their own special interests, form a meta-ecology, unintentionally working together to produce the non-event.
By definition, a non-event is not when nothing happens. It is rather a "realm of perpetual change, of ceaseless updating, of an incessant succession in real time, which produces this general equivalence, this indifference, this banality that characterizes the zero degree of the event."
In the build up to the Sochi Winter Olympics, we were inundated with breaking reports that the "Black Widow" bomber was already in Sochi. Following the suicide bombing of the Volgograd train station in Dagestan, we were all ready to believe that this woman was ready to blow up 15,000 Americans in the athlete's village and create chaos of olympic proportions. And we tuned in with indulgent desperation, with the threat of terrorism in the back of our minds.
Similarly, in the months leading up to this year's World Cup, we heard about the spark of protest spreading through major cities by activists intent on drawing attention to issues of inequality and poverty. As early as June of 2013, protesters took to the streets and held up signs that read, "WE DON"T NEED THE WORLD CUP!" and "WE NEED MONEY FOR HOSPITALS AND EDUCATION!" and  more recently, "FIFA GO HOME!" effectuating a dialectic borne from class distinction, misappropriated funds, increased cost of living  and crippling traffic jams.
In 2008 China forcibly displaced some 1.25 million to make way for the Olympics. In preparations for the most expensive Olympic games in history, land seizures aggressively forced Sochi residents out into the cold in 2012. And in Brazil, the eviction of nearly a quarter million people continued the legacy of the perpetual non-event, which supports the global order of things.
The protests in Brazil are paradoxical – symptomatic – reverberations of the non-event. What are we supposed to see? The mural depicting a child crying at the soccer ball in his soup bowl, or the numbers that show Brazil's significant socio-economic improvements since it bid for the games over a decade ago?
Which illusion would you choose to engage? Do we crave protest and populist uprisings, or do we want to hear about how Brazil's government spent nearly $200 in health and education programs for every dollar spent on World Cup stadiums?
Part of the preamble to this particular non-event included the perception that the harsh reality behind these games is found in a devastated middle class and the general degradation that exists as part of an economic sacrifice for upward motility.
Even as the games came to a close, stories were still rolling in about Black Bloc anarchists hell bent on vandalism and violent protest, of Brazilian hackers in Miami targeting FIFA, the explosion in teen prostitution, the disturbing correlation between domestic violence and World Cup losses, the 23 buses that were set ablaze in Sao Paolo following Brazil's defeat to Germany, and of course the concessional riots in the home city of the second place team.
Within this tangled media sphere, the reality of the event is always already compromised by a steady stream of information, of news coverage and opinion. There is nothing after the zero degree; in the absence of an historic convulsion, the rate of reality immediately begins to fall. When there are catastrophic events, reporters and photojournalists arrive on the scene before emergency services, and if they could be, would be there in advance – inventing or causing the event so their coverage gets out first.
A lot of us prepare ourselves for these events with high expectations of catastrophe. A veritable "stock market for disaster" where you bet on the probability of an event against those who don't believe it will happen. If this seems absurd to you, just take the now-infamous biting incident, which was actually bet on before it occurred.
Some 167 people wagered that Luiz Suarez would indeed bite another player after a Norway gambling website posted a silly prop bet before the games, at 175-1 odds, that Suarez would exhibit his trademark chomp. And while one of the apostadors made over $916 USD on a $5.25 bet, which is quite real, it's a mere microcosm of the greater non-event.
The actual event is what goes on elsewhere – at construction sites, in local politics, in the streets, the slums, and the backchannels behind years of urban planning and development. During the non-event, the real events are happening in brothels, in the arrests of drug traffickers, in gambling houses, in eviction notices and bribes.
What we see in the live broadcast is the media illusion of the event – the event of news coverage and media cacophony that surround it – substituting reality for the actual advent of the event itself. Only events set free from news and information, and us, the spectators, can create that "fantastic longing" for something we may never experience in its ultimate form, to again go back to Baudrillard.
These occurrences alone are "real", since there is nothing to explain them and the imagination welcomes them with open arms. Whether or not these global events are truly manufactured in this way intentionally, they are orchestrated by a silent epidemic of information networks and thus, are fake in the greater meta-narrative we are all drawn into.
As spectators we violently desire these events and wager, to some degree, that nothing should actually happen outside the normal order of things – caught in the middle somewhere between jubilation or terror.
As the global eye sets over Brazil, violent celebrations cease to make a sound, birds perch atop the empty stadiums, cords are unplugged, cameras are stowed and we go back to our own private banality, seeking out other instances that might disturb or reinforce the monotony of the global order.
Tags: Brazil 2014, brazilian middle class, Brazilian Protests, critical theory, FIFA World Cup, inequality, Olympics