"WORLDREADER" BRINGS E-READERS TO GHANAIAN CLASSROOMS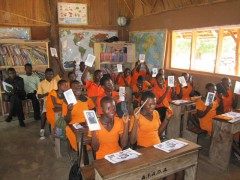 Lack of easy access to educational materials in many of Ghana's rural communities is a huge challenge to smooth teaching and learning. Coupled with the unavailability of electricity in many places, school work can be as unmotivating for students as it is challenging for teachers.
This is a problem that WorldReader, a non-profit organization, has targeted to help eliminate. With a growing mobile technology subscriber base in Africa, the organization has taken full advantage of the new wind to introduce e-readers to local communities in the rural regions of Ghana. By this, students access reading materials online and in digital format to help with their research. Teachers also can now better explain concepts that seemed abstract to their students previously. E-readers are very much like cellphones and are well suited for conditions in the developing world since they consume little power while using the wide-spread GSM network.
But how is WorldReader directing this educational outreach? In partnership with Amazon and in agreement with the Ghanaian government, WorldReader has distributed free Kindles pre-loaded with a number of books and supplied by Amazon to six primary schools in the Eastern region of Ghana. This initiative has helped to transform the way the students see books and reading as a whole since many of them have been used to chalk and chalk boards only until now. The fact that the e-readers function more as cell phones than as laptops helps to keep the students interested and always keen to read on the go. But the initiative doesn't end there.
As part of making the Kindles of full effect, WorldReader has taken steps to make public-domain text books available for the first time in electronic format. One of Ghana's leading bookstores, EPP Books Services, has agreed to contribute 100 of their books to be digitized for the project. EPP Book Services has about 15 retail bookstores in Ghana and many in several other African countries. It also acts as its own publisher, contracting local authors to write textbooks and fiction. Many recommended textbooks already in use in Ghanaian public Junior High Schools are published works of the company. Getting EPP on board this project has been a huge achievement for WorldReader who also believe that this local endorsement may only lead to a broader use of Kindles in Ghanaian schools with time.
As the students read on, the initiative is being monitored to verify if the e-readers increase the number of books they read in a year. Ultimately, growing communities in developing countries may get the chance to skip the paper phase of learning in a laudable project that seeks to bridge the literacy and technology gap.
Picture Credit: WIRED
Tags: education, mobile learning, Technology