Azerbaijan: An Unlikely Host for Internet Governance Forum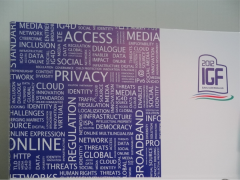 I attended the 7th annual Internet Governance Forum sponsored by the United Nations in Azerbaijan: a country notorious for its non-compliance with international standards for protecting human rights. The IGF brought together some 1,600 representatives of governments, human rights activists, international bodies, NGOs and private companies to convene a new forum for multi-stakeholder policy dialogue and facilitate public policies related to key elements of internet governance.
Freedom of expression was top of the agenda at the meeting held at Baku, but it was eerie to sit talking about freedom of expression in a place where citizen journalists and bloggers have been subjected to frequent and concerted attacks. On one hand, we received English dailies praising the Azeri government's efforts at promoting telecommunications and technology, yet on the other we heard about various prominent bloggers and activists who have been attacked and assaulted by the selfsame government.
A lot has been said about this flagship event being held at a country where the government is a signatory to many international human rights treaties, but on the home front vigorously suppresses any voice critical of the state and state-sanctioned development. The Azerbaijan government not only uses violence to repress dissent but passes devious laws to silence outspoken activists, journalists and bloggers. With the government maintaining a tight grip on state media, any criticism of its actions and policies rarely gets through to the people. The is perhaps the  reason why the nation has had this president since 2003 and will probably have him still after next year's elections.
With advances in technology, the government has also started threatening and abducting bloggers who voice their opinions online. At least eight journalists and three human rights activists are currently imprisoned by the Azerbaijani government according to a briefing by Human Rights Watch, while five bloggers are in detention in connection with expressing opinions online.
I spoke with Emin Milli who, along with Adnan Hajizade, posted a satirical video on Youtube ridiculing the government's import of donkeys from Germany at hugely inflated prices. Both these bloggers served 17 months in prison on charges of hooliganism that make it very clear how the government stifles every critical voice on both traditional and online media.
Emin wrote a highly publicized letter to the president during the same week the IGF was held, claiming that though Internet is free in Azerbaijan, the internet user is not!
"Azerbaijan needs urgent, real and deep reforms. We must transform our society of fear into a society of opportunities. As someone who was jailed for using the internet to criticize you and your policies, I have experienced an inconvenient truth – the internet is not free in Azerbaijan and it is definitely not free from fear. Today, our fear is one of the main sources of your power. And the impact of it is pervasive. Its consequences are damaging."
An extensive report was published by the Institute for Reporters' Freedom and Safety which highlighted its concerns about the critical state of human rights and freedom of expression in the country. This report was widely circulated and talked about during the forum and is supported by the European Union Delegation to Azerbaijan and International Media Support. Reading this report gives you a sobering picture of what happens if you speak up against the government in Azerbaijan.
We witnessed how the government can use its power to intimidate at the actual event too when local groups were ordered by the IGF secretariat not "to distribute this report within IGF premises" as it attacked one of the stakeholders – the Azeri government. This was not the end of the matter though. The freakiest thing was yet to happen when news circulated that the laptops of EU officials were being hacked in their hotel rooms. Vice President Neelie Kroes has been quite tough in dealing with the Azerbaijani government on violations of freedom of expression. The whole event was plagued with technical and logistical mismanagement – unusual for a UN conference but very apt in an authoritarian context. From not providing coffee, food and water and disrupting the internet connection to starting sessions late, they did the best to distract participants and curtail their speeches.
All the participants of this UN sponsored event got to learn what priorities the authorities have when President Ilham Aliyev declined to participate in the IGF's opening ceremony, opting instead to attend the Bakutel ICT Exhibition and Conference held at same venue. More business, more fake show to the world! The message was clear:  you might have internet freedom but we aren't happy to talk  to you about internet governance, human rights on the  internet, surveillance, privacy and digital security issues.
Tags: Azerbaijan, IGF, IGF 2012, internet governance forum, United Nations