8 March – Do We Still Voluntarily Fall Prey to Socialist Culture?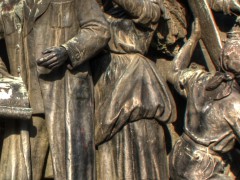 Here in Bulgaria the International Women's Day is humorously called "The Florist's Day." Since the early morning hours, flower retailers suddenly start occupying the streets and offering their merchandise at a double or triple price. Bulgaria has a long tradition of celebrating March 8, dating back from Communist times and not fading away throughout the years. It has certainly lost part of its Socialist luster, but the way it is being talked about and perceived has hardly altered since the democratic changes took place more than 20 years ago. Even though many women refuse to celebrate it and deem it as "a Communist holiday," even more of them insist on being congratulated, bestowed with presents and pampered by their husbands and boyfriends, thus trying to make the most use of the fact that they are women and must be celebrated for this biological fact.
I personally do not like this holiday and do not want to be greeted with it, probably as a result of the fact that none of the women in my family have ever celebrated it. To me, the 8th March is blended in the futile socialist culture and reminds me of a past which I prefer to forget. It is an epitome of condescending behavior towards women and the way it is celebrated actually has very little to do with the reasons it was decided in 1910 to have an International Woman's Day ("to honour the movement for women's rights and…assist in achieving universal suffrage for women").
I am fully aware that many would argue that this is not just a holiday marked in the post-Soviet world, to which I have no other option but agree, I am almost certain that most of the world do not seem to mark it as noisily as they do in the ex-Communist countries. Surprisingly, they seem to be among the ones where the gap between male and female equality is higher than the average. According to recent data from the Bulgarian Helsinki Committee, the difference between the wages of men and women in Bulgaria is 15.7 percent (the EU average being 16.4 percent). The law in Bulgaria also guarantees the woman's workplace during a maternity leave. This data definitely does not intend to imply that the gender gap in Bulgaria is non-existent (quite the opposite), but it serves to create a discussion of whether today we need to talk of women's rights in general, or about whether the old perceptions about the woman's role in society still hold. And if this debate is initiated in Bulgaria on any given day, I am very willing to participate.
On a more personal note, as a Bulgarian, here is why I feel quite hostile to this day. To me, the 8th March smells of cheap restaurants from socialist times, where husbands would take their wives to buy them a dinner. It looks like a cheap bouquet of carnations, wrapped in cellophane and bought from the bus-stop on the way home. It sounds like women working as hard as men in polluted factories that then would go back to their panel apartments to their children who need help with their homework, while men would at the same time would go back home after work and would ask to have dinner served. This holiday echoes like the fake laughter of a bunch of tipsy women, who gather once a year in a pub with their hair done by the neighbourhood's hairdresser and cheer to "independence" and complain about their men. 8th March is the only day in the year when women are legally entitled to receive praise for being beautiful, strong, giving and caring, while 364 days of the year they are being abused, underpaid, overworked, and mocked for not being able to make a rear park.
Or maybe it is just that I am really tired of those reminiscences from the past that still seem to haunt our daily lives. I would rather be celebrated for what I am and what I have managed to achieve as a person, and not as a representative of one of the sexes. And while I realize that women are still in an unjust position in many parts of the world in terms of wages, access to the world market and fundamental human rights, I believe that marking this day with flowers and trivial speeches of the importance of the woman (does anyone ever speak about the importance of the man, or is it just taken for granted?) does not offer any support in this regard. Nor do we need a special day to be reminded of the role of the woman as a mother, homemaker and a valued member of every aspect of our societies. Thus I'd rather not have this discussion once in a year, gift-wrapped and sugarcoated by trite statements that "Women's beauty will save the world" and 'Behind every successful man there is a woman".
Tags: Bulgaria, gender, International Women's Day