An Open Letter to [Job] Seekers: How to Live Your Way into Employment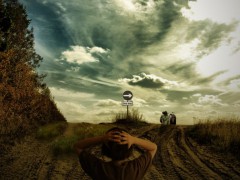 Dear Young European Un-Employees,
You belong to generation "Crisis," and youth unemployment is one of its manifestations which must affect you in one way or the other. Job stability is so passé. The world which this phrase epitomizes no longer exists, and has given way to a "flatter" world – certainly flat enough to expose everybody to the forces of global competition and changing demographics. Europe can no longer postpone recognizing that the shifting economic, social and political tectonics inside and outside the EU have radically changed the employment prospects of its youth.
I'll assume you have a solid education garnished with some international experience, and that you want to shape your life in a manner enjoyable at least to some degree. You will invariably belong to one of two types of people: those searching and those who have already found – not employment per se – but a longer-term vision they wish to pursue.
To those who think they have figured out their passion and calling – congratulations! Let me remind you of a  quote by John Irving, "If you are lucky enough to find a way of life you love, you have to find the courage to live it." Unemployed right now or not, you are on a much better track than most people in the long run, because you know what you want. How you get there is, as they say, a matter of hard work and perseverance. If you are tired of hearing that, I can only regurgitate Steve Jobs' "Stay hungry, stay foolish" mantra, and wholeheartedly wish you "good luck" with zero sarcasm and noble envy.   
This letter intends more to provide a few honest tips for the "rest of us" on how to be an employee in the post-crisis new economic reality, while ideally not over-compromising along the way. If at times the advice appears inconsistent or contradictory, it's simply your fault that you do not comprehend how international, inter-sectoral, inter-disciplinary and all other sorts of dynamic forces shape your post-modern existence. Or maybe go back and re-read Kafka. If you find these musings at times too esoteric or incomprehensible, take it as confirmation that you have exercised enough sound judgment to develop knowledge and expertise in one area, at the expense of everything else out there.
So the first thing to do is figure your out your philosophy – what do you want in life? The more vague the answer, the more difficult a task you have ahead of you.
If you are after big money, let's say, and you are reasonably gifted in maths and finance, until recently the golden gate of investment banking was wide open, with consulting right next door. You can still get in through the cracks, if good enough. You might be accused of having "wasted some of the best years" of your life, immersed in excel-spreadsheets that tell you how to maximize results based on non-understood, misunderstood or misused formulas. But what are the "best years" anyway? At 40, you could be sipping margaritas and calling your pension fund manager from the beach, while planning your next social entrepreneurship or impact investing venture, charity gig or entry into politics.
You want to save the world? Not a problem. There are enough conflicts and problems out there, which require your attention and dedication. If affordable, try volunteer work. Or maybe your exotic background has already landed you a scholarship. In any case, do enough vaguely related internships until you narrow it down to an area you find suitable. Should you feel a strong emotional connection to one group or cause, you might indeed be onto a fulfilling career. Otherwise, expertise in professional disengagement is a precious and transferrable skill in the world of development professionals.
You want to keep your work-life balance and crave 20th-century-style job stability? Get into public service, if you come from a country where that works. If not, an international organization might be a better fit. True, you might at times get frustrated at the lack of dynamism there, but probably there will be enough internal politics – like everywhere – to keep you busy. Re-watch political satire:  "The Thick of it" or "Yes Minister," and always remember it's more about appearance and form than substance, output and outcome. If you spot that exceptionally brilliant and inspiring character who defies all institutional logic, and sincerely invests their time and effort into improving the status quo they have fought so hard to become a part of, follow that person at all costs, bask in their energy, and be thankful. More generally, finding a mentor might be one of the best propellers for your career and mental sanity.
There is no perfect job, and it cannot substitute for the rest of your life. Decide how far you are ready to go, be ready to say "yes" and – equally if not more important – to say "no." Know what you are going after – the skill-set, the subject area, the inspirational co-workers, the environment, the exit prospects, the institutional/company brand-name, or the geographic location. Prioritize these, and focus on the positive, while also being aware that your priorities will change. Know when and how to "settle," if you so choose, and keep reminding yourself why you did it – hopefully the reasons will continue to be making sense.
We live and breathe moral relativism – what works is whatever works for you. If a substantial part of your identity is derived from work, makes sure you end up at a place where you can identify with more of what you do, rather than less. If you are more of a 9-to-5-er, find a job that provides you with the time and resources to do what you truly care about outside the office, and calmy accept the trade-offs that come with it.
Or go free-lance, and embrace the possibilities that a lack of stability and uncertainty provide for personal and professional development. You can make things work in different ways. Develop your serendipity, and you will eventually end up "in the right place, at the right time." Being physically and mentally in a space where you can meet people who share your interest and passion might be the healthiest way to "network your way" into otherwise inaccessible opportunities, or jump on board with the projects you would have otherwise liked to start yourself. And if the administrative burden and bureaucratic hurdles become too much, move your business to Singapore or Australia, until all European politicians realize they cannot win the global war for talent (and taxes) unless they urgently put a lot more thought and action into decreasing the barriers to entrepreneurship in the Old Continent.
Turn yourself into an expert in a very trendy and promising subject area, but keep the big picture in mind. Live in the present, but plan for the future. Squeeze in some language learning. Become an overqualified holder of a PhD title just for the fun of it, though you know you are most probably contributing to the doctoral glut. Keep the path, but stay alert for shortcuts or sidepaths. As Samuel Beckett put it, Try. Fail. Try harder and fail better. Anyway, failure is a psychological construct often rooted in social expectations. And in Europe failure still comes with more of a scarlet letter than it does in the United States, for example, where reinventing oneself and starting anew is a more accepted part of any professional and personal journey.
If you have to, become adept at "global nomadism." Miss old friends. Make new ones. Thank Skype and web 2.0 for existing. Feel alone. Fly intercontinental for weddings, and transcontinental for birthdays. Fall in love, and move at least a time-zone away, or a time-zone closer. Reconcile your career plans with those of your partner. Decide on family and children. Be your own ruthless judge, re-evaluate, re-consider, accept and move on. And don't stop questioning and examining yourself until content.
To quote Rainer Maria Rilke, "be patient toward all that is unsolved in your heart and try to love the questions themselves. Do not now seek the answers, which cannot be given you because you would not be able to live them. And the point is, to live everything. Live the questions now. Perhaps you will then gradually, without noticing it, some distant day, live your way into the answer."
Good luck with your [job] search!
Tags: educational reform, Europe, unemployment, young leaders, young professionals, youth unemployment