A neighbourhood garden in Berlin, Germany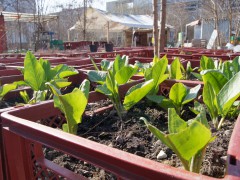 As part of our  coverage on "The New City" we asked our bloggers for some pictures from their cities. Are there any places in their cities that are prime examples for sustainable urban living? But it could also be a negative example in order to show how a city should not look like.
The Prinzessinnengarten is an open garden in the middle of Berlin, were anyone can lend a hand, plant vegetables, learn about ecological agriculture and foster biodiversity.
The garden was opened in 2009 on a 6000 m² vacant lot. Today the garden brings together hundreds of neighbours and friends. It consists of mobile beets where anyone can plant something or take care of a plant. The beets don't belong to anybody, they are the result of common work. People who lend a hand can purchase the produced bio vegetable to a price lower than in the low cost supermarkets. Others will have to pay some more.
The Prinzessinnengarten is an interesting way of making quality products accessible to a wider public, fostering knowledge about nature and relations between neighbours. And in a sense, it enables the people to reappropriate the city.
Tags: berlin, BIODIVERSITY, ecology, garden