A new scenario between Bolivia and Brazil: immigration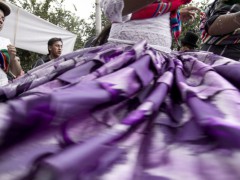 It is not uncommon, when walking through the streets of Sao Paulo or in train stations and subways, to find an Bolivian immigrant who could be identified by a background of a mix of Amerindians, Mestizos, Europeans, Asians and Africans. These individuals  today make up an estimated population of about 11 million people in their country of origin.
Being part of the region considered the birthplace of the largest empire in the  pre- Columbian Era – the Inca empire – since the Spanish colonization in the sixteenth century and the subsequent republican establishment by Simón Bolívar, Bolivia has gone through several periods of political instability, dictatorships and economic problems. This intensifies the flow of low-paid laborers to countries like Argentina and Brazil, who excel in their bilateral relations between most of the countries in South America. However, a mass immigration has recently been recorded, mainly to Brazil. This is due to two major relevant factors: the successive economic and social crises experienced by Argentina since the mid-1990s and the new geopolitical position taken by Brazil in Latin America. Currently, there is some data indicating a population of approximately 100,000 Bolivian immigrants living in Sao Paulo, the biggest city in Brazil.
This immigration was initiated in 1950 through academic agreements between both countries, when young people came to Brazil through academic exchange programs. Twenty years later and even today, the profile of the immigrant has changed: most work in Brazil with an illegal status (indocumentados, as they are called). Some are also men aged between 20 and 40 years, with less education, unskilled or less qualified, and working as liberal professionals, sellers and workers in garment factories. They are mostly concentrated in the neighborhoods of the Central Zone, as Bom Retiro, Bras, Pari, Barra Funda, Cambuci, among others. And a significant portion in neighborhoods in the East Zone, such as Belém, Penha, Itaquera, Cangaiba, Engenheiro Goulart, Ermelino Matarazzo, Guaianases, São Mateus, and other neighborhoods in the North Zone, as Villa Maria, Vila Guilherme, Casa Verde and Cachoeirinha. All these regions are characterized by low social and economic indicators in São Paulo.
According to Sylvain Souchaud, a French geographer and researcher at the Center for the Study of Population (Núcleo de Estudos da População-NEP), in University of Campinas (Unicamp), says there is a great increase in movement of Bolivian immigrants in Brazil, since the goal is not  to gain permanent residency or citizenship but to return to Bolivia. "They usually stay a year or two and end up coming back (…). Social relationships, when they are in Brazil, are not their priority. The goal is to work, save money during some time, set up a project – buy a house, finance studies – and back. The flow is intense, most of them come and then go back," the researcher says. Even with the imprecision of available data, due to the migratory process and the existence of an informal economy related to it, most current studies reflect only a portion of what actually occurs.  However, according to the World Bank, remittances from Bolivian legal emigrants grew 1,091 per cent between 1997 and 2007, reaching U.S. $ 927 million, an amount equivalent to 6.6% of the Gross Domestic Product (GDP) in Bolivia.
One problem faced in São Paulo is that many illegal Bolivian immigrants working in garment factories tend to undergo human trafficking in search of better living conditions. To not create a misunderstanding between human trafficking and the facilitation of illegal entry in Brazil, Maria Cristina Cacciamali and Flávio Antônio Gomes de Azevedo, both members of the Center for Studies and Research on International Policy (Núcleo de Estudos e Pesquisa de Política Internacional – NESPI/USP), say that human trafficking is "characterized by people who cross the borders and soon after, by coercion, fraud or force, will be subject to a kind of exploitation or abuse. Regardless of how the person enters the destination country, whether by legal means or not, there is an intention prior to exploitation or abuse by the traffic dealer. "
In São Paulo, big textile companies often outsource production, subcontracting in the formal sector other companies that rely on the informal labor market. This is done to reduce their production costs, ultimately increasing the efficiency of invested capital and reducing the costs of inventory maintenance, making textile companies more competitive and profitable. Consequently, they indirectly end up using the labor force of undocumented Bolivian immigrants. Since many of these immigrants originate from extremely poor regions, the desperation for work makes them willing to work long hours. Additionally, companies see their skills in sewing and weaving as an attractive source of labor for the textile industry.
In the dependency relationship between the employer (local citizen) and employee (illegal immigrant), indocumentados work through a verbal contract, with salaries far below local standards and are subjected to work in unhealthy conditions, unsafe environments ultimately endangering their health. They often work double shifts, often breaching the maximum allowable hours of work as regulated by Brazilian labor laws. The fear of deportation by Federal Police and hoping to save any money raised to improve the quality of life of their families, prevents workers from complaining about these conditions which are like that of  human enslavement.