A Very Green Public Consultation in El Salvador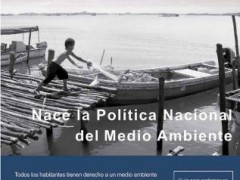 Should Central America actually worry about climate change and its consequences? I ask this because in case you didn't know, the seven countries of the region together (Guatemala, Belize, El Salvador, Honduras, Nicaragua, Costa Rica and Panama) produce less than 1% of the total greenhouse gas (GHG) of the planet. Why should we, the inhabitants, actually care? It's their problem, so let the big polluters take care of it.
Well, the government of El Salvador doesn't think so. On June 5th, World Environment Day, its Ministry of the Environment and National Resources opened up a public consultation to create a National Environment Policy. Through its website, the Ministry appealed to people from all different organizations, age groups, educational backgrounds, professions,  living areas and political beliefs to participate with their opinions and ideas and listen to the proposal the government wants to make.
To this end, the Ministry distributed a 16 page booklet – that can also be downloaded from the internet – stating the main points of its policy, most of which lies in two main strategies: to reverse environmental degradation and to reverse the country's vulnerability to climate change.
El Salvador came out on top of Germanwatch's 2009 Climatic Risk Index. This is hardly surprising given that 88.7% of the country is vulnerable to natural disasters. 95.7% of the population of almost 6 million live at risk.
El Salvador also leads the list of the countries with a higher risk of natural disasters according to the 2010 Report of the Global Facility for Disaster Reduction and Recovery.
The country actually has had a National Environment Law in place since May 1998 which states that a National Environment Policy should be approved and updated every five years, something that has happened only once  in 2000.
The proposal made in the 2010 national consultation includes such issues as management of solid waste, treatment of residential and industrial wastewater, promotion of clean production, stopping excessive use of agrochemicals, promoting use of appropriate technology by industry, installation of more weather radars to measure rainfall intensity and help prevent disasters in highly populated areas, better urban planning, and raising people's awareness about environmental matters.
The minister Herman Rosa Chávez himself and ministry staff  visited many communities in the country to talk about this proposal and listen to what people had to say. People could also access the consultation by Facebook and the Ministry's web page. These channels were used to encourage people to participate in the open events and to email the Ministry or send them a "correograma" (a longer telegram that can be written at home and send by a post office), for which a detatchable form was even thoughtfully provided in the 16 page booklet.
As open and cheerful as this invitation sounds, it seemed to me it was a poor strategy. After all, I didn't learn about it until it was finished, a little over one month after it started. And I only got to know about it by chance when looking for some other information on the ministry website.
You also have to remember that internet access in the country is still quite limited. Although rising at a fast pace, the latest figures from about a year ago made by two of the phone companies operating in the country indicate that only 16.1% of the Salvadorans have internet access.
On the other hand, the national media show a complete lack of interest in spreading information or running stories related to environmental matters. This won't make the headlines because "it doesn't interest readers, it doesn't sell newspapers", as one journalist told me a couple of years back.
An informal poll on the webpage of the Ministry of the Environment and National Resources asked readers: "Do you know how to participate in the public consultation for the National Environment Policy?" Of 248 respondents at the time of the consultation, 212 said "no".
It's sad to think that an effort focused on a healthy democratic exercise was not given the right amount of coverage in local newspapers or television news programs. This was surely one of the reasons for the lack of participation.
It is pretty obvious that even if a democratic government proposes such an exercise, if the people don't participate, these new environmental proposals won't become standard practice not in a very long time.
Tags: CLIMATE CHANGE, democracy, El Salvador, ENVIRONMENT, global civil society, Technology