Addressing inequality in education of rural girls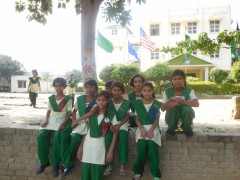 India is no doubt a country of contrasts, the starkest one being in educational attainment. According to the 2009 Right to Education Act, elementary education is free and compulsory for all children from the ages of 6 to 14. All direct costs such as schools fees or indirect costs like books, uniforms, transportation or mid–day meals for children are provided by the government. Although elementary education is free the overall progress in education in India is very low. According to UNESCO's  Education for All(EFA) Global Monitoring Report, India has the highest population of illiterate adults at 287 million.
In India fifty to sixty percentage of children do not go beyond their primary schooling and more than 50 millions become drop-outs. UNICEF India says that for every 100 boys enrolled in secondary education there are only 81 girls enrolled. There is a high dropout rate among regions, religions, castes, social groups and gender. There are more girls who drop out of school compared to boys. Some of the reasons  being  discriminatory social attitude and  behavior towards girls, poverty,  inadequate awareness and inadequate sanitary conditions like toilets for girls. The responsibility of taking care of family members and siblings and household work  lies  with the girls. Additionally, the impoverished conditions of the family and the dowry system lead to girls being seen as a burden on the family and money is not spent on their education. Rather they are treated as transient family members who will eventually marry and go into another household.
Tremendous inequality in education is even more obvious among rural girls from disadvantaged communities. And one of the most marginalized groups are the semi-nomadic, ethnic community of Kanjars living in Madargate, a small neglected locality of Anupshahr, one of the most backward districts of Bulandshahr in the state of Uttar Pradesh. The community did not believe in educating their girls for quite some time, but institutions like Pardada Pardadi Girls Vocational School(PPGVS) in Anupshahr has taken small steps in improving education for the girl child  and also managed to convince their guardians  on the importance of education.
The school was started in 2000 with the vision and aim of educating rural girls from the marginalized communities. The organization has taken on the mission of community development through education, training and employment of rural. It has already enrolled 250 girls from the Kanjar and Fakhir communities in 2010. Presently the school provides free education for girls from Kindergarten to class 12. Each girl is paid Rs 10 for attending school daily. At the end of her schooling the amount accumulated is given to her to use for further education or any other purpose.
I met Asha at the school and her story of empowerment through education is truly inspirational. One of the first batch of students to pass out in 2006 who continued her higher education outside the school, she now works as a counselor at the school, counselling dropout students and their families on the importance of education and tries to convince them to join back. She proudly mentioned that she was able to voice her opinion about wanting to marry an educated and supportive man who would allow her to work after marriage which would have otherwise been impossible earlier, given that the community members are very conservative.
Asha's cousin, Priyanka also got an opportunity to study in Bangalore at the Nettur Technical Training Foundation (NTTF) and then further train at the TATA Steel Company in the eastern state of Jharkhand through the School. Asha has set a precedent to study and work for other girls in her family and the community.
Besides basic education, drama, health and hygiene, cooking, art and craft drama, health and hygiene, cooking, art and craft the students receive vocational training at PPGVS. Employment is even provided at the Production Unit for some of the pass outs and other community women. Under one of the alternative livelihood programmes women and girls make BlackBerry men suit covers (bags), low cost sanitary napkins, saris, purses, and home furnishings like bedcovers, pillow covers, cushion covers and coasters. These are sold both in India as well as international markets.
Given that the reasons cited above are mainly responsible for girls dropping out of schools, more schools like PPGVS that provide scholarships and other incentives to reduce financial stress on the family and increase motivation to continue education should be established. Measures such as counseling, vocational trainings and alternate livelihood opportunities to take care of school dropouts and encourage the child to go to school should be encouraged.
Tags: alternate livelihood, castes, education, girls, inequality in education, rural girls, Vocational Training