An Elderly Woman's Incredible Story from Troubled Cairo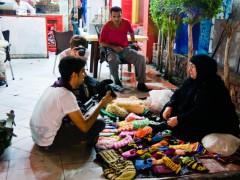 "I don't know if she is a real human being or an angel, because human beings can't and don't live like this," said a friend of mine while narrating the story of the 72-year-old Salwa, a poor, almost-blind Egyptian woman whom he met on his way home.
After work, he went to meet a couple of his friends. They went to some café for a drink, and he left at 6:45 p.m., fifteen minutes before the daily curfew starts throughout Egypt.
He drove his car and started crossing streets and bridges towards home. He stopped at tens of army checkpoints, where he had to take feeder roads to proceed further towards where he lives. At the end of his long trip, he stopped at the main entrance leading to his neighborhood, which was completely blocked by the armed forces.
There, he found a very old woman who was apparently looking for someone to drive her home. He talked to her, and when he learned that she lived in his neighborhood, agreed to take her with him. Again, he started driving, looking for any unblocked way to return home.
"For almost three hours I drove across many districts in an attempt to return home. I was never certain that I would succeed, but once I had this woman with me, I had an inner-faith that I would arrive home, safe and sound," said my friend.
"May Allah protect you, son. Thank you very much. You are a righteous man" were Salwa's first words after she got into his car. Those words came before my friend realized that the old woman was almost blind. He learned this fact when she started talking about herself and how she came to be where he had found her.
"Salwa is a 72-year-old woman who was abandoned by her three sons, leaving her to face the dangers of daily life," said my friend.
After being abandoned by her sons, Salwa traveled to Upper Egypt (in the south), where she lived with her brother for a short period. "I lived with him for a few months, but one day I woke up and decided to escape. It is true that I can't see, but I can sense human emotions very well. Despite being my brother, I didn't feel welcomed in his home. The way he treated me was far worse than how people fare in the streets. After all, I think I am better off this way," said Salwa.
After escaping her brother's house, she went to the microbus station, where, upon hearing her touching story, a microbus driver agreed to take her back to Cairo. Upon arriving in Cairo, the driver gave Salwa a few pounds, and she became all alone, once again.
"With those few pounds, I bought some lighters and handkerchiefs, and I started to sell them in the streets of Cairo. A divorced woman who was living alone allowed me to live with her, and she didn't ask me for a rent. I bought my food and medicine from the revenues of my sales, and at that time, life was going well and smoothly."
For several months, Salwa spent the day selling lighters and handkerchiefs in one of Cairo's crowded streets. At the end of each day, she took a microbus back home to spend the night before repeating her daily routine the following day.
One day while Salwa was selling her goods, a few radical Islamists approached her and ordered her to refrain from selling her goods. "They said that what I was doing was beggary and that I should look for a decent job to earn my living. I tried to explain that I can't walk long distances and that I can barely see them, but they ignored me and threw my goods away."
In the midst of the situation, another street vendor whom Salwa knew tried to convince the radicals that he knew her and that what she was saying was true. Eventually, they beat him and left, and no one could stand in their way.
"They became furious when he told them that I wasn't lying and that I am too old to marry a man who could afford my living expenses or even to sleep with any man who would pay me."
After the radicals left, people collected some money and gave it to Salwa, who bought new goods and came to sell them on the next day. "When I came, I couldn't find the vendor from the previous day. I asked about him, and people told me that he wanted to report the incident to a famous TV channel, but the radicals threatened to kill him if he did."
A few days later, even though the vendor had been too afraid to report what had happened, Salwa learned that he had been found dead in his home. "Those cruel monsters killed him only because he tried to protect me, and I am nothing but an old woman trying to afford the expenses of her food and medicine. It is a shame that such people live in the same world that you live in," said Salwa to my friend.
"And do you still live with the divorced woman?" asked my friend.
"No dear, she kicked me out, as she asked me to start paying her rent in order to live with her, and indeed I could not afford that, so I left," said Salwa. "But you know, this world is still full of good people like yourself. A neighbor of the divorced woman gave me EGP 500 when he heard that I was leaving, and now I live in a small room, and I can pay its monthly rent."
Coming to how she reached the location where my friend found her, Salwa explained that she had been going home from where she sells her goods when a thief grabbed her purse and ran away. "Of course I couldn't chase him, so I started walking home, as all the money I had was in that purse. I was resting when you found me, and I was certain that God would never leave me alone."
At that point, I couldn't imagine how this could be true! A very old, nearly blind woman, walking alone, with no money, after the curfew, and still she had an endless faith and optimism that she was going to get home! Many people would have lost hope and died many times if they faced what she had faced. Being abandoned by her sons, mistreated by her brother, attacked by Islamist radicals, kicked out of where she lived, and even robbed, but she still seemed very optimistic and cheerful when my friend found her.
On their way home, which they were finally able to reach by an alternate route, she sang a few words she had written for her sons, and with an English translation to those words, I end my story:
"Oh my sons, why did you leave me all alone, my sons?"
"Why did you forget everything I have done for you, my sons?"
"How could you enjoy your life without me, the one who gave birth to you, my sons?"
"I think about you every day, and I wish that one day I will see any of you, even by chance."
"I know this might be imaginary, but I see almost every day, in my dreams."
"I hope you are okay, and I want to tell you that Mum is okay and is smiling as ever, my sons."
Tags: Cairo, Curfew, egypt, faith, Inspiration, Parents, poor, poverty, Story, Woman