Any quick solution to remove the air pollution?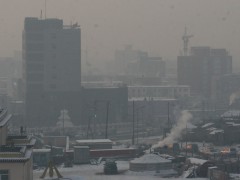 As part of our  coverage on "The New City" we asked our bloggers for some pictures from their cities. Are there any places in their cities that are prime examples for sustainable urban living? But it could also be a negative example in order to show how a city should not look like.
In winter everybody talks about Ulaanbaatar's air pollution and it has often been mentioned that our home city has become the most air-polluted city of the world.
As written in  UB post Mongolia's capital suffers from air pollution that harms health and that even causes the death of some of its dwellers. People living downtown are breathing six times more toxic air than normal and those who live in ger districts of Ulaanbaatar are breathing air that is 18 times worse than normal.
But my home town Ulaanbaatar does not always have such dirty air as mentioned. It's only in winter when outside temperatures fall below minus 30 -40 degrees Celsius.
Tags: air pollution, Ulaanbaatar, urban living, urbanization