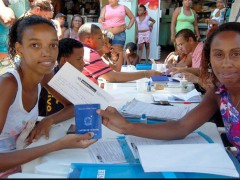 When I moved to the United States from Brazil in August of 2008, I was ready to become part of the long-famous phenomenon of brain drain. As I first stepped onto my college campus, I envisioned the future smoothly: amazing grades, a wonderful finance internship on Wall Street, followed by a six-figure offer I would eagerly accept. The scenario not only lacked imagination, but also a certain foresight. In my defense, if you weren't a part of the financial world, August of 2008 didn't yet provide a good indicator of the debacle that would ensue.
In December of 2011, when I was half-way through my final year in college and starting to contemplate the possibility of having to find a full-time job, I was faced with the following truth: Brazil registered its lowest unemployment rate ever at 4.7% while the United States' unemployment rate persisted at 8.7%. I looked at those results with some surprise but no real concern for my future in the United States. My attendance at an Ivy League school had filled me with a much-mistaken confidence that I would land a job.
A few months later, land a job I did at New York law firm that even promised to pay me well. I wasn't on Wall Street, but then again, that had been my decision and I still felt like my plan had worked out pretty well. And then there was that call: "Ms. Averbuck, it has come to our attention that you would need to be sponsored for a work visa and since we do not offer those, we will have to rescind your offer."
That was the first of a few calls of that style. Sometimes employers wouldn't even bother to interview me for my undesirable status, the H1-B dependent. After much rejection and disappointment that hurt more than any heartbreak ever did, I flew home to Brazil, confident I'd conquer Latin America in a heartbeat. And so there I was: back home, with a great personal network and the news that Brazil had just registered the lowest unemployment rate for the month of August at 5.3%.
My job search began casually, some words with friends, sent my resumé to a few places I wasn't necessarily quite sure what they did. I thought finding a job would be so easy between the low unemployment rate, my language skills and my foreign diploma, that I didn't try very hard. I waited until opportunities came my way.
And then they didn't. Not how I expected them to at least. People would ask me to send my resumés and then never reply, and every cold call or e-mail I ever sent never even merited a reply. In the US I had gotten replies from 100% of my cold career e-mailing, even if I hadn't gotten a job offer, but in Brazil the rules were different.
That is when something occurred to me: Brazil is missing the infrastructure for a job search. Here finding a job almost always happens informally. A friend of a friend sends in your resumé, or maybe your parents know someone. This, of course, happens in the United States as well, but the difference is that it is not the prevalent way of searching for jobs. While new websites, Catho and Vagas, are trying to become the definitive jobs boards in Brazil, so far no one has succeeded in taking the market. To get a job my friend, you have to have some friends.
I did eventually find a job, one that I didn't care for very much but which allowed me to more accurately take in the Brazilian system. I'm still dumbstruck by its informality and the importance of what Brazilians call the "QI" factor, or "Quem Indica," meaning who recommends. Without a recommendation, most people don't even stand a chance. And the interesting thing is that this permeates all levels of employment, from recent graduates looking for jobs in banks to maids looking to work in private homes.
In addition to the huge frustration of having to be well-connected, what is perhaps more frustrating is the inability to browse for opportunities. In my job search, I felt that I didn't know what was out there and who was hiring. I'd hear about different opportunities each day as I talked to more people, but as I made a decision I felt that it was not as informed as it could have been.
The result of that is that I have now switched jobs twice in six months. I finally landed at a recruiting firm, where I hope in the near future to change this employment landscape in Brazil. The way it is, it can't stay. With an unemployment rate nearly at attrition level (a rate reflected simply by people switching jobs), candidates will demand to know what jobs are out there in order to make smarter decisions.
Tags: 2008, 2012, brain drain, brazil, employment, Goldman Sachs, IBGE, Ivy League, job, job boards, job search, unemployment rate