Britain's welfare state – an outsider's view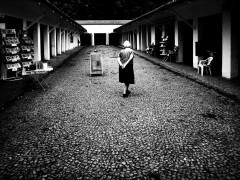 High numbers of pensioners, young people's drive for education and prosperity and the growing gap between the young and the rich are all changing the British landscape. The welfare state which provides assistance to all of its citizens is slowly dying and being replaced by a new way of thinking: we are not in this together – everyone fends for themselves.
Sunday afternoon, Acocks Green in Birmingham. I am one of many people to come out and enjoy this rare sunny day. I sit on a bench and look at the people walking past me. There are very few families with children, and some people of working age with Central and Eastern European accents. But the most visible group are the pensioners. Some are on mobility scooters, but most of them are either walking alone or with their grown-up children.
Old and alone – this might be our future if we remain individualistic. Flickr Wolfgangfoto (CC BY-ND 2.0)
The people around me reflect three changes occurring in modern Britain. The first is demographic change, resulting from high numbers of elderly people and low numbers of those at reproductive age. The higher number of pensioners has already had an effect on public finances, and it is estimated that the cost of the current system will increase from 1.2% of GDP in 2009-10 to 1.7% by 2029-30. In Britain pensions are subject to means-testing and, according to the latest government plans for 2017-2018, the threshold for the new means test will be £123,000, a big rise on the present level which is a mere £23,250. "Welfare state" rhetroic puts pressure on the state to step in and offer assistance to those in need. Sitting back on my bench at Acocks Green and looking at the pensioners, I wonder when the state will shift its 'responsibility' onto the shoulders of  retired people themselves or their families.
The second change is in the relationship between young people and the state. It appears that British youth have started to resemble their European counterparts and are now taking their lives in their own hands. Participation by young people in higher education increased in England from 30 per cent in the mid-1990s to 36 per cent by the end of the 2000s. What's more, young people from disadvantaged communities are more likely to enter higher education since the mid-2000s. With the increase in university fees from £3000 to £9000 a year more students are considering taking their degree abroad. There is a clear understanding that the degree itself will not lead to a job and university graduates spend a lot of time enhancing their skills through volunteer work, internships and part-time opportunities. It is clear that the state and job agencies will not help them as much as their parents.
This contrasts with the other trend which is an increasing gap based on socioeconomic conditions. Unfortunately Britain is becoming a segregated society where the gap between rich and poor has reached its highest level in more than 40 years. Since 1970s the number of people living in extreme poverty has fallen; however those who were poor became poorer and those who were rich became richer. Looking at shop windows full of luxury products, it strikes me that only a minority will be able to afford them. The clothes adverts at bus stops start to hurt your eyes. It hurts knowing that one in four children live in poverty and that nowadays becoming a teacher is not a professional anymore – but more like a mission to eradicate inequality in education.
It seems like the wealth and prosperity our partents enjoyed were not a durable norm but a once-in-a lifetime opportunity to live in above-average conditions with free access to good education, healthcare and an ample range of job opportunities. It appears that we are starting to live in a more capitalist economy with fewer social provisions and less assistance. This is ironic given that capitalism was born in Britain itself. To paraphrase the words of Professor Sennett, this over 200 year old offspring is starting to pinch and immobilize us all.
Tags: Britain, education, elderly people, globalization, higher ed, migration, pension, POLICY, poverty, young people