Cambodia: A Turning-point for Freedom of Expression?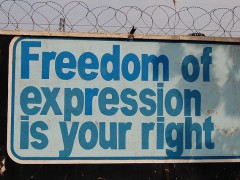 This article responds to the Secrets of Transformation multimedia series, a joint project of Bertelsmann Transformation Index and Deutsche Welle. 
Freedom of expression has deteriorated in Cambodia even though it is guaranteed under international and Cambodian law. Cambodian citizens are regularly targeted, harassed, charged with criminal offenses and subject to politically motivated persecution for speaking out against oppressive government policies.
Cambodia operates under a broad international and national framework that protects freedom of expression. Article 19 of the Universal Declaration of Human Rights (UDHR) states that:
Everyone has the right to freedom of opinion and expression; this right includes freedom to hold opinions without interference and to seek, receive and impart information and ideas through any media and regardless of frontiers.
Article 41 of the Cambodian Constitution states that:
Khmer citizens shall have freedom of expression, press, publication and assembly.
Cambodia is also a member of ASEAN and a signatory to the ASEAN Human Rights Declaration which recognizes the right to freedom of opinion and expression.
Traditional media—print media, radio and television—are the most established forms of media, yet are subject to high levels of control and censorship in Cambodia. Despite the diversity of the media landscape, the government still rules with a heavy hand, which curbs the spread of differentiated opinion. Freedom House assessed press freedom in Cambodia as "not free" in its 2013 Freedom of the Press survey, while Reporters Without Borders ranks Cambodia 143 out of 179 countries on its Press Freedom Index 2013. Such a dismal ranking is not far different from that of the Bertelsmann Stiftung's Transformation Index (BTI) which analyses and evaluates the quality of democracy, market economy and political management in 128 developing and transitional countries, and which ranked Cambodia 103rd for its democracy status—covering political participation and rule of law—in 2014.
Between 2007 and 2011, 123 cases of media harassment were reported, including arrests of journalists, prohibitions of reporters from entering public events, confiscations or damages of journalists' equipment, criminal charges and even violence. Evidence suggests a culture of self-censorship among media professionals, who avoid publishing information that may be considered offensive or politically sensitive, as an inevitable consequence of such pervasive harassment.
In an effort to overcome the challenges faced by traditional media, much wider use is now being made of the Internet for forms of social activism. The Internet has provided alternative and more strategic ways to produce and share information and thus to affect political change. However, increased Internet use has also led to recent moves to censor free expression online. In May 2012, the government announced the drafting of a Cyber Crime Law, to regulate and limit the use of the Internet and to prevent, as it says, "ill-willed people… from spreading false information".
Although the situation of free expression has worsened, there have been some promising developments in 2013. In the run-up to the national assembly elections held on 27 July 2013,  thousands of people, especially young people, took to the streets in support of the main opposition party—the Cambodia National Rescue Party (CNRP). There was little unrest and no physical backlash from the authorities, as was widely seen during the last elections. This new lack of self-censorship amongst young people, who have not directly experienced Cambodia's tragic past, is extremely promising for the future of human rights and development in the country.
The right to freedom of expression is a cornerstone of any functioning democracy. Without the right to seek and impart information, to hold opinions and engage in debate, citizens cannot meaningfully participate in the political life of their nation. Accordingly, the Cambodian government needs to review its criminal code on the right of freedom of expression, and ensure that citizens, including key actors for democracy such as activists and journalists, are protected and not persecuted for exercising their rights. It is also important that the government maintain the free environment on the internet which is now the last stronghold for dissemination of free and fair information. Thus it is really important that the Cyber Crime Law, if it is to be adopted, should comply with the adopted UN Resolution on Internet Freedom and should involve open public consultations.
Tags: BTI: Freedom of expression, Cambodia, censorship, freedom of expression, internet, journalists, Media, press freedom