Cambodia: Development Soaked in Women's Tears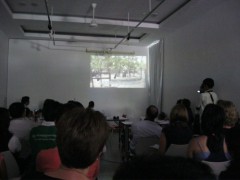 On the November 24th 2011, Amnesty International launched its report on "Eviction and resistance in Cambodia: Five women tell their stories," in the Cambodian capital Phnom Penh, where an estimated 10% of the city's population has been evicted since the 1990s. The report features the first-hand testimony of Hong, Mai, Sophal, Heap and Vanny, women who have faced or continue to face forced eviction from their homes and land.
The problem of forced evictions and land grabs is growing worse in Cambodia, leading to violence springing from deep and widespread dissatisfaction over existing resettlement schemes. Just two days before the launch by Amnesty International, a 33-year-old mother from an evicted Boeung Kak Lake communitreportedly committed suicide by jumping off a bridge as no new home was given her in the latest on-site relocation scheme meaning that her family would be homeless,  There were other two ladies from the same community who reportedly went to the bridge one day later with the same intention, only they were stopped and taken to a counseling service. Boeung Kak Lake is an area of central Phnom Penh where nearly 20,000 people have either been evicted from their homes or are at risk of losing them since a commercial development company was granted a 99 year lease on the area in 2007.
With attendance from the ladies featured in the report along with community members, representatives of local and international organizations, media, and political party members, this Thursday's press launch came at the same time as the heartbreaking news of the lady who ended her life through sheer hopelessness. It gave the women a platform where they could tell the world about the suffering involved in forced evictions and sent a clear call to government officials to take immediate action on the ongoing scandal of forced evictions and land grabbing in the country. Unfortunately, no government officials were present at the press conference even though the organizer had invited them.
The five ladies featured in the report are:
A 48 year-old- mother, Mai, from Oddar Meanchey province, in north-west Cambodia, who was pregnant in 2009 when she watched her home go up in flames together with 118 other homes in her village that were bulldozed and burned down by more than a hundred police, military, and others that were allegedly employed by the company granted a concession for a sugar plantation. She was imprisoned for eight months for trying to defend her housing rights. (Watch her story)
Vanny is a 31 year old lady from Boeung Kak Lak, where she helps lead community resistance to the evictions in her area. Despite violent intervention by the authorities, Vanny still affirmed that "In the end, whether I win or lose, I will still feel happy that I resisted with the others. I will struggle to live in my old nest, struggle until the very last round." (Watch her story)
Hong is a woman from an indigenous community at risk of losing its forest, known as Prey Lang, the "largest primary lowland dry evergreen forest remaining both in Cambodia and on the Indochinese Peninsular", where her community traditionally lives.  She leads her community in a battle to protect this forest with much courage and pride. As quoted in the report, Hong believes that:
"development can provide money for spending for just a short period of time…once the money has gone, the villagers have already lost their land, their natural wealth. I have seen that happen in other villages. That's why I don't want to go down that road. I am happy to keep my land to give to my children, grandchildren or someone who is homeless…I want to keep the forest, and earn a living the traditional way, step by step."
One of fascinating campaigns of her community to protect the Prey Lang forest from depletion and the encroachment of plantations and mines was dressing up like the Na'vi tribe from the 2009 science-fiction film Avatar. (Find out more about the campaign at: Cambodia: 'Avatar' Rally to Protect Country's Forest;  Watch her story)
While her husband was arrested and detained on spurious charges, the same day the authorities and a businessman took all her village's farming land in the Chi Kreng commune, Siem Reap province, where 175 families were forcibly evicted from the farmland they had lived on since the late 1980s. Heap was left alone to make ends meet for herself  and her four young children. "For those with power and money, what they do is always right. The government does not help its citizens become rich. The government only helps the rich oppress the poor," she says.  (Watch her story)
Sophal is a lady from a community in Phnom Penh in Dey Kramhorm village where the area was handed over to a private development company called 7NG. She resisted eviction for years until the night when hundreds of police and company workers tore down her villages in just a few hours. (Watch her story)
Asked why women were chosen while forced eviction could affect everyone in the community including men, Donna Guest, Amnesty International's Asia-Pacific Deputy Director emphasized that "the loss of one's home and community is a traumatic experience for anyone, but women in their role as primary caregivers for their family face a particular burden. Forced evictions also threaten the gains made in reducing poverty in Cambodia over the last 20 years."
"Women not only face impoverishment from forced eviction but threats and imprisonment when they try to resist, with no protection from the law," she added.
With the screening of a film and the sharing of the personal stories of those ladies affected by forced evictions, the atmosphere at the press launch was highly emotionally charged and you could clearly hear the weeping of people from communities whose plight was screened. It was a strong indication of how desperate these communities are and how direly they need government support in bringing their resistance to forced eviction to a happy end.
Tags: Cambodia, deforestation, indigenous communities, land grabs