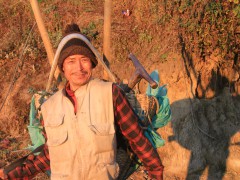 His hands tell a story.
Marked with lines and callouses, they have carried heavy loads.
The weight of a historical connection to a sacred land that has been punctuated by hardship and challenge in the shadows of the world's highest peak, Mount Everest.
Meet Dilip Kulung, a former porter who use to carry loads of up to 90kg to help climbers on their mission to summit the infamous Base Camp.
Dilip belongs to the Kulung community, one of the original inhabitants to the Solukhumbu region in eastern Nepal, otherwise known as the land of Everest.
Like many of his friends, Dilip has lived a story of hardship and disadvantage in an attempt to make a living to support his family who are precariously perched on the mountainsides of the Hongu Valley where the villages of Chheskam, Sotang, Bung and Gudel stand. This area is affectionately known as Mahakulung.
Now, Dilip advocates on behalf of his people to raise awareness of their strength and courage, despite being overlooked, under-appreciated and subjected to an industry that has exploited their cheap labour and desperation since the first Base Camp expedition took place in 1921.
While there are countless tales telling of conquest over the globe's tallest mountain, the stories of those who make it possible for 30,000 tourists to visit the region each year are more often than not forgotten.
When Dilip first joined his father as a porter more than 10 years ago now, he earned 250NPR, which is equivalent to AUD$3 a day. Today, a porter typically earns AUD$12 a day for fairing torrential and fatal conditions.
"It's not enough to cover the cost of logistics during the trek and it's very hard to save money for our families. Unexpected deadly accidents occur regularly. Some trekking companies do not provide porters with appropriate equipment like hiking shoes, wind-proof jackets, trousers and gloves. As a result, porters suffer from acute altitude sickness, frostbite and tragic injuries if the snow gives way on a steep pass. Others lose limbs or an organ. It's also common for trekking companies to refuse to pay a fair compensation to porters and their families for their loss."
Dilip will lead a team of Australian filmmakers next year through the communities of the Mahakulung to create the documentary Carrying Everest; a film about the Kulung people of Eastern Nepal. Despite being one of Nepal's most marginalised communities, they are also some of the most courageous and gifted. Carrying Everest will be their story, and the filmmakers are hoping a generous public will help make their voices heard.
The team have launched a crowdfunding campaign and are asking the public to help raise AUS$3,000 to not only assist with the logistics of the trip, but directly contribute to the employment and livelihoods of the Kulung.
Film Director Hallam Drury explained: "Carrying Everest is a film about heroic exploits – the power of the heart, the passion for life and noble people striving to build a better life… Despite the earthquake, despite the frustrating circumstances and inequality, there are also inspiring stories of human agency. We want to shine a light on their strength and resilience, not just the adversity they face."
"The crew will be staying in local teahouses (guesthouses), hiring local porters and guides at fair wages and purchasing meals and supplies in local villages, which in turn, will provide an income and much-needed investment for these communities," Hallam added.
Dilip explained that the Kulung are a source and symbol of humanity, as legend will tell you. "We have a century's long unbroken relationship with this sacred land of ours, and despite the government's denial of our origins and unique rich culture, every trekking season, twice a year, more than 8,000 Kulung travel to the Everest trail, seeking work as porters, cooks, store hands and housekeepers."
"We smile and greet trekkers with 'Namaste' and if you are experiencing problems in our snowy world, we help. We have saved the lives of hundreds of foreign tourists. We may be poor by wealth, but we are very rich in humanity."
"Our hearts are big. It is the Kulung way. We are the pillar of the Everest trekking industry," added Dilip.
To help make this film a reality and to tell the story of the Kulung, make a donation at www.carryingeverest.com.
Tags: carrying everest, crowdfunding, film, kulung, mount everest, nepal