Chhavi Rajawat: The Changing Face of Rural India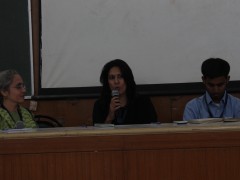 "Being a man or a woman is a matter of birth. Being a man or a woman who makes a difference is a matter of choice"
Chhavi Rajawat, the young woman Sarpanch, of Soda Village in the northern state of Rajasthan whom I met at the India Future Day in Mumbai on 5th March, made her choice and made a a difference by investing her considerable energies in social causes to assist the people of her ancestral village Soda, in the northern state of Rajasthan.
She has a strong emotional bond to her village, having spent many of her childhood holidays there. With a Bachelors degree from Lady Sriram College, Delhi and a Masters in business administration from the University of Pune, Chhavi – the  Sarpanch or elected leader of her village – decided to give her life more purpose.
Talking about her experiences as a young woman Sarpanch, Chhavi proudly proclaims that many women have found a voice because of  a woman leader – with total strangers coming in and openly discussing problems and issues. Yet she also believes that the system of local self-governance or Panchayati Raj in India has huge but untapped potential. She feels Panchayats should be accorded more respect and allowed to deliver on the same level as other leaders.
Choosing  to be a facilitator between her village, the government and NGOs, and the private sector Chhavi has played a significant role in bringing about numerous changes. She helped people – especially women from her village – to become economically empowered by providing them with alternate job opportunities, income generation activities like tailoring, grinding spices and pulses but also candle making. She had the energy and determination to take on truly daunting tasks such as providing proper sanitation facilities like toilets, making contaminated drinking water safe through rain water harvesting and desilting land out of  the main reservoir. Receiving no government funding for her efforts, she still went ahead and raised funds on her own from family members and her father's friends
Chhavi also worked on infrastructural development- constructing roads and drains. Education is another area she focuses on: youth volunteers from her village run an adult literacy programme for village women. She says that the education and farming areas still have not been able to find partners to support them and she needs to work more on this. And she is investigating ways of linking in with online education opportunities.
She admits that the lives of women in her village have changed since she became their leader. "My presence has made women come forward and talk about their personal issues. Surprisingly, NGOs and other organizations working there find it strange that women have come up to her and requested toilets. "And I told them that's because it's the men who are doing the surveys and a woman will not come out to a man and tell him that she wants toilets and she won't talk to a man about personal issues like marriage". Young women want to be like her and she believes in changing people  for the better. Now, because of her work, families are motivating their girls to study or work before they think of marriage.
Being a young woman leader at the village level is a tremendous challenge. Yet Chhavi has received a great deal of support and encouragement, especially from older people.
Her vision as a leader is to develop the village as a whole in all its aspects, and of course this involves women and girls. "What we need is support not just funding. We need to bring in the expertise that exists out there, and work hand in hand with the experts to bring improvement to the lives of the villagers. The area continues to be very backward in terms of education and farming. The ancient techniques now being used should be replaced with new ones. Even though we have  been able to make these groups for women and provide alternate source of income, we need trainers to come in. We need sustainable market links so that unemployed graduates can benefit. There's a soft skill development progamme now underway for unemployed graduates in the village to  make them employable."
Chhavi says that her greatest achievement would be to successfully complete the projects she has initiated, especially the construction of almost 680 more toilets in the village. Two hundred have already been constructed but funding for the other 680 is still lacking. She thinks that the achievements the villagers would point to are the clean water supply and the new roads and drains. "A bank  was also brought in the village….all this has put such big smiles on their faces," Chhavi happily declares.
International Women's Day was celebrated for the first time in her village this year. Not only single women but married women and mothers too came forward and participated in games, races, songs and  dance without much need for them to be coaxed. Self-help groups also displayed their products. "I am sure next year more women will come forward and participate" says Chhavi. This is a most promising start as it shows that rural women are losing their inhibitions and coming out to be seen and heard!
Tags: Chhavi Rajawat, education, income generation, Indian women, Rajasthan, sanitation, Soda Village, water, women's economic empowerment