Climate Change: Saving the World – Are you doing your part?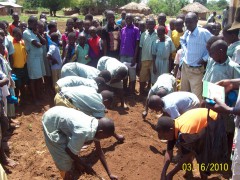 Climate Change – a global phenomenon is happening to all of us irrespective of race, color and sexuality. It is one of the trending topics on the global scene at the moment. On the agenda during the Rio+20 conventions, Climate Change was never left out as its issue which that took years to put together with many stakeholders around the globe holding preparatory meetings.
Uganda's climate is naturally variable and susceptible to flood and drought events which have had negative socio-economic impacts in the past.
Climate Change was the reasons over 100 world leaders were gathered in Durban late 2011 to connect and debate on issues pertaining to climate change. It will be the same reason people will be gathering in Doha, Qatar in November 2012 to deliberate and find solutions to issues pertaining to Climate Change.
Uganda is definitely not left out of this debate. We have had our share of natural disasters that have proven to be 'national' disasters due to the adverse effect it's had on our people. In 2010 March, disaster struck in Eastern Uganda. A landslide occurred in an area called Bududa, which was triggered by heavy rain between 12-noon till 1900GMT.
The landslide struck villages on the slopes of Mount Elgon, including Namesti, Kubewo, and Nankobe with 85 homes being destroyed in Namesti. Many areas in the affected villages were buried by the landslides, with houses, markets, and a church destroyed; many roads were also blocked. A trading center in a village was flattened, leaving shops and houses buried under the mud. Photos: Ugandan village struck by Landslides – 100 missing
In October 2010 the United Nations Office for the Coordination of Humanitarian Affairs (UNOCHA), stated that one of their key concerns in Eastern Uganda is flooding and landslides as a result of environmental degradation. This organization recommended relocation of the residents of the high risk areas, warning that the worst was far from over. Working with farmers to ensure their farming is more sustainable and avoids environmental degradation and offering alternative housing styles to prevent the need for under-cutting slopes were the pieces of advice given. Families were relocated to Kiryadongo district in western Uganda, however others opted to stay to wait till they could harvest their crops.
Fast Forward: July 2012. Disaster struck again.  Between April 2010 and June 2012, we never heard anything about Bududa from the government officials in charge apart from the relocation of residents.  If there was any government initiative, it wasn't extra-ordinary and mainly directed to the victims and survivors of Bududa. It was and has been 'business as usual.'
On 27th June 2012, a couple of Ugandans on Twitter felt the need to join in the struggle and help the victims of the landslides in Bududa. With the hash-tag #tweepshelpbududa on Twitter, a campaign was started which reached out those near and far for donations both in cash and kind. A meeting set up saw up to 20 people and ready to commit their time and energy. At the end of the cash donations came to a total of  707,000/= Uganda Shillings and 750,000/= in pledges.
It was agreed that clothes, utensils, cash and any other items deemed fit and useful to the victims would be collected. A committee was set up and the first batch of donations left for Bududa on 6th July 2012. My colleagues: Ronald Azairwe, Maureen Agana, Rosebell Kagumire and others played a vital role in this campaign.
I'm very much aware that Uganda's Minister of Water & Environment was in Brazil for the Rio+20 Conference and also sure that if Uganda is a member of UNFCC, it will have a delegation in Doha for the conference on Climate Change in November.
At the end of the year when the stock taking is being done[if any]:  we will be giving ourselves a part of the back; the tweeps and the minister alike. Why? We all did our part in 'Building the Nation'.I always tend to think that in changing the world, we do it bit by bit, step by step, and holding onto our strengths as individuals and citizens.
This may not be a question of whether you are Ugandan or not. The question still remains: Are you doing your part? Does your conscience agree with you?
Tags: Bududa, CLIMATE CHANGE, Doha, ENVIRONMENT, food security, Landslide, Mount Elgon, Natural Resources, sustainability, Uganda