Co-constituents or Consumers?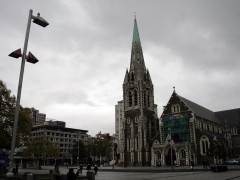 For the first time in history, the number of city dwellers outnumber those living in rural areas. What does this mean for our cities and how does this affect the city of tomorrow – ones already in existence and those that are yet to be developed?
There are many definitions of what specifically constitutes a city, but one cannot argue with the idea that a city is more than just a place in space. Cities are living, breathing – organisms of sorts – home to millions of people that are not necessarily simply consumers of the space, but co-constituents of it (Greenfield, 2011).  As possible co-constituents of a city however, how much involvement does the average city dweller have – or want – in creating, recreating or imagining their city?
(Re)-Creating Christchurch – or recapturing its essence?
February 22, 2011 is a date not many in Christchurch are likely to forget.  The magnitude 6.3 earthquake and its band of aftershocks were the worst to hit the city in 80 years, killing 181 people and decimating over 900 buildings (Source). The seriously slim silver lining on this dark, foreboding cloud however, was the sense of unity that the Kiwi's experienced going through shared loss, and the opportunity for its citizens to be part of their city's rebuilding. Together, in eight short months, the council and Christchurch's constituents created the "Central City Plan".
It is a plan that looks and feels like, as the Mayor puts it, the "People's Plan".
Establishing a "Share an Idea" forum that was quickly archived due to the large influx of ideas (well over 106,000 ideas were submitted in a city with a population of 359,000), residents, local community and the indigenous population contributed ideas, thoughts, fantasies and dreams for what their Christchurch could become.  Directly from these ideas, out of the rubble, came the five pillars:
A Green City, with more neighbourhood parks, surface stormwater treatment and more green rated buildings,
A city with a Stronger Identity, including sustainable, shorter buildings, urban design controls, new lanes and courtyards and spaces with character,
A compact CBD with free wireless and free short term parking,
A great place to live, work, play, learn and visit, including better schools, high quality inner housing and residential incentives and,
An Accessible city, with more cycling and walking routes, high quality public transport and green two way streets.
This list isn't to advertise the policy writing prowess of the ChristChurch City Council but to highlight the participatory process undertaken in order to produce the plan. Similar to Iceland's participatory Constitution writing process, perhaps this is the way cities of the future will be created – by inviting constituents to truly own the space they inhabit. It remains to be seen whether this is the way it will turn out of course. It is not unusual for public participatory processes to be all but buried under bureaucracy and budget concerns, but if all goes well the risen-from-the-rubble city will be an example for cities around the world on how to re-imagine a city and bring your constituents along on the journey.
Jakarta
The city of Jakarta is on the opposite end of the spectrum. A city with ten million inhabitants and another 10 million that commute into the region daily (source), rapidly developing but in an seemingly chaotic manner, there is no doubt that Indonesia's capital is an example of a mega city, and with it comes fittingly, mega challenges.
There is no shortage of interest in the region either; institutes and governments around the world are interested in Indonesia and its capital. One of the most populous democracies in the world (at third) and in a politically significant geographically, steps Jakarta takes towards becoming a more sustainable city may serve to influence its many south east Asian neighbours.
There are movements towards sustainability, a green radio station that runs on solar power, and a monthly car-free day in downtown Jakarta, among others. As more and more citizens – especially youth — of Jakarta become interested in sustainability and shaping the future of their city, perhaps we will see larger shifts in behaviour. There is no doubt that changing a city is much more difficult than recreating one from essentially a blank slate, but it can happen — a change in behaviour becomes habit, and the nature of the city is altered. An example of this is the change in habits of the Brisbanites during the ten year drought that parched the capital of Queensland, Australia. In a matter of months, the average Brisbane dweller reduced their water consumption by more than 40%, due to a combination of incentives, public awareness programs and encouragement and ownership of the program (source). So it is possible…
Cities have been around for centuries, and will continue to play a larger and more significant role in how we as homo sapiens live and organise our lives. It might not be easy to predict what they will look like or become, but it is important that we become a part of the process, in order to ensure that the we take care of our cities and globe, the same way the city takes care of us.
Tags: community participation, Development, Indonesia, Interesting Christchurch, New Cities, New City, participation, Reimagining, sustainability