Come and Take It: Preventative Care In Texas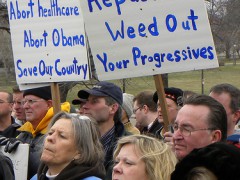 The state of Texas has the
highest rate of uninsured people
in the United States – 26 percent of a population of 26 million. Of the uninsured, 58 percent are Latino, including 1.3 million children under the age of 18. Under the
Affordable Care Act
, the Medicaid program would significantly broaden the health insurance safety net for millions and lift some of the burden from local taxpayers, but Governor Rick Perry and the Tea Party have successfully postponed the debate on this legislation until 2015. In a recent statement,
Perry wrote
, "I will not be party to socializing healthcare and bankrupting my state in direct contradiction to our Constitution and our founding principles of government…" effectively sanctioning those most in need of effective, affordable healthcare in Texas. Indeed, "preventative care" in Texas seems to be less about savings to the state and taxpayer to provide a sense of stability in the  lives of the less privileged, and more about preventing effective care by singling out a federal law it disagrees with and refuses to enforce.
The proposed Affordable Care Act would expand the state's Medicaid population to include individuals earning between 0 and 138 percent of the federal poverty level – an individual earning up to $15,000, or for a family of four, up to $31,000 would be eligible for Medicaid health coverage beginning in 2014. The federal government would pay the entire cost of Texas's expansion for the first three years through to 2016 and 90 percent in years thereafter – an estimated $100 billion that would assist in providing health insurance to an additional two million Texans, according to the state's Health and Human Service Commission, at a proportionately small cost to the state.
A recent U.S. Department of Health and Human Services (DHHS) study on healthcare quality classified the current state of preventative care protection in Texas as "weak." Under the current system community clinics and emergency care facilities are the only option for preventative care in low-income areas. But severe overcrowding at  clinics, and the fact that emergency care is the most ineffective and expensive means to provide healthcare, makes preventative care nearly impossible. Implementing Medicaid Expansion would cost Texas roughly $6 million per year, but the comptroller's office calculates that Texas hospitals currently lay out $10.2 billion in uncompensated care. By rejecting the expansion, Perry will cost the taxpayers more, not save them money as he claims. Furthermore, an estimated 1.5 million Texans eligible for expanded Medicaid coverage will remain without health insurance and an estimated $13 billion in federal funding will be distributed amongst other states.
So why hasn't there been more pushback from Democrats? What is happening with public programs and organizations to raise awareness and actually get the people who are affected by this involved in the debate? One reason could be that in addition to having the worst healthcare system of any state, Texas has one of the lowest levels of voter participation and citizen engagement in the country, particularly among Latinos. A recent nonpartisan study by the Annette Strauss Institute for CivicLife at the University of Texas Austin revealed that Texans are just not politically engaged as voters, citizens or as active members of their communities. The study found that in 2010, Texas ranked 51st (including the District of Columbia) in voter turnout (with just 36% casting ballots in 2010); 49th in the share of citizens who contacted public officials; 47th in how many trust their neighbors; and 43rd in the percentage who give to charities. In a recent interview with the Dallas morning news Regina Lawrence, the UT journalism professor who runs the Strauss Institute said "A good definition of democracy is not one in which two-thirds of voters don't show up … what we saw was a very active minority of citizens really determining the future of the state…"
In a state that steamrolled one of the most notorious filibusters in history to get a contentious anti-abortion bill passed, why would anyone be surprised that "ObamaCare" was not immediately adopted? Despite thousands of protestors at the state capitol in Austin, the Texas State Senate passed the sweeping anti-abortion legislation that became a national spectacle when Sen. Wendy Davis filibustered the bill for 12 long hours in July. Perhaps this is directly correlated to why voter participation is so low in the first place. The immigrant mindset, cultural conditioning and the lofty weight of Republican dominance have all had a part in bringing Texas to such numb apathy. In this Republican bastion, it's not easy for more liberal policies to pass, especially considering that the only consistently liberal city is the capital. Driving around the countryside, in the deep rural areas of Texas, I can easily imagine the thought process: "why vote at all? I'm not affected in any way by these political decisions. It will be as it always has been. Things will never change…"
The Texas Organizing Project (TOP) seeks to improve the lives of low and moderate income Texas families through civic engagement by mobilizing neighborhoods into public issue-based campaigns and linking those issues to the importance of voting. In regard to the Affordable Care Act, TOP volunteers go door to door in low and middle income neighborhoods explaining ObamaCare to the uninsured and encouraging them to sign up for Medicaid eligibility. These civic campaigns need more than mere encouragement if they are to be effective. The Obama Administrations plans to sign up seven million uninsured people across the country in the next few months, but in order for that to happen there needs to be a balanced risk pool that includes lots of young and healthy people, otherwise premiums will spike and the program won't be affordable to the target groups.
Unfortunately the blame is not limited to the stonewalling of the Perry Administration. Politicians on both sides continue to treat healthcare as a commodity – Americans spend twice as much as any other country on healthcare and the money spent doesn't go to improving the current system. At a national level, 31% of every healthcare dollar is spent on costs that have nothing to do with actual care. At the state level, action is required to enlist locally elected officials and other key stakeholders who support the law.  Healthcare providers need to plan for expanding capacity, doctors and space to handle the potential new influx of patients and organizations like TOP need to go beyond basic grassroots campaigns to get the people most affected by this legislation directly involved in changing Texas's parochial healthcare policies.
Tags: Affordable Care Act, Austin, health insurance U.S., Medicaid, Obamacare, public policy, Texas voter participation, TX, Wendy Davis